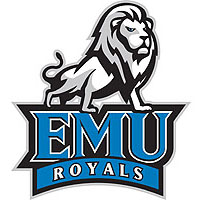 EMU's basketball women picked up a confidence-building win on Senior Night, rolling over Randolph-Macon 76-61 in Yoder Arena.  The Royals are now 17-6 overall and 10-5 in the ODAC.  They can clinch a bye into the ODAC Tournament Quarterfinals with a win in their season finale at Washington and Lee on Saturday.
After a hiccup to start the contest, where they trailed by as much as 12-5, the Royals played their game and provided a fittingly thrilling atmosphere for seniors Jess Rheinheimer (Manheim, Pa./Lancaster Mennonite), Alicia Ygarza (Conestoga, Pa./Penn Manor) and Shannan Thompson (Glen Allen, Va./Hermitage).  Rheinheimer nailed a transition three pointer at the buzzer of the first period, flipping EMU in front 22-20 and giving them the momentum which they never let go.
A 9-0 run ballooned the lead to 33-23 midway through the second, before a lull allowed the Yellow Jackets (12-12 / 7-8 ODAC) back within 37-34, where the score stood at halftime.
R-MC still trailed by three at 43-40 before Jonae Guest (Dumfries, Va./Potomac) hit back-to-back layups to trigger a 10-0 run, bumping the lead to 13.  The Yellow Jackets made one last run to cut the lead to 55-50 with 8:12 left in the game, but Jazmine Carter (Fairfax, Va./Oakton) hit a big triple to get the women going again.
The Royals posted Rheinheimer up inside, and the versatile forward made the Yellow Jackets pay for defending her with a guard.  Her two free throws with 4:25 to go capped a 9-2 streak, which bumped the lead back up to 67-54 and essentially finished off R-MC's chances.  Lindsey Krisak (Alexandria, Va./Edison) iced the game by hitting 4-of-4 free throws and a three pointer over the final 1:23.
Eastern Mennonite's defense was impressive, holding the Yellow Jackets to 34% shooting and 12 points below their season average.  The Royals, meanwhile, were right on target with matching their season marks, except in one spot – free throws.  The women played aggressively all game and earned 26 free throws, eight over their average, and making 21 for 81% as a team.  R-MC's women fell into a jump-shooting pattern and were only 5-7 from the stripe.
Rheinheimer led the charge, racking up 26 points, 13 rebounds and three assists on what could be her final game in Yoder Arena.  She was 9-11 from the line.  Guest teamed up with Rheinheimer to dominate the inside, as the center racked up 13 points and 13 rebounds, to go with two blocks and two steals.
Myneshia Walker (Freeman, Va./Brunswick) got the women going early with a couple of triples in the first, and finished with 10 points.  Krisak finished with seven and five assists.  Shaneyea Conwell (Newport News, Va./Warwick) added seven rebounds as the Royals had a 48-33 control of the boards.  Ygarza was good for five caroms and four assists.
R-MC's double-double machine, Katie Anderson, was held below her season averages and finished with 14 points and eight rebounds.  She came into the night with marks of 20.4 points and 12.5 boards.  Hannah Livermon scored 22, but was just 4-of-15 from long range.
Saturday's game at Washington and Lee starts at 4:00pm.  Regardless of how W&L does at Shenandoah on Wednesday, the Royals need a win to get into the ODAC's top four and into the quarterfinals. The Generals already beat EMU earlier this season and would own a head-to-head tie-breaker if they won on Saturday.