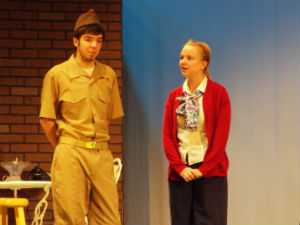 For their spring show, The Wilson Memorial High School Hornet Players will present the farcical comedy, Kiss and Tell, by Fredrick Hugh Herbert, produced with special permission from Dramatist Play Services, Inc.
Kiss and Tell is a romantic comedy with lots of laughs and fun for the entire family. It is set in the 1940's during World War II. The story focuses on the lives and relationships of neighboring families; the Archer's, the Pringle's and the Franklin's. Audiences are transported to the backyard of the Archer home, to a simpler time where families mingle together and shared in each others' lives.
Corliss Archer, a precocious 16-year-old, played by Mackenzie Griffith and Haley Sanders, leads viewers on a journey of love, relationships, and all the complications that make life a little more interesting then she bargains for. As Corliss says, "you can't fight nature."
Corliss and her best friend Mildred Pringle (Crysta Bliss) get into a bit of trouble when they decide to sell kisses to help the war effort. Their innocent attempt to support the good 'ole USA sets off a firestorm of gaffes, misinformation, and cover-ups that push their parents to the brink. As their parents, Harry Archer (Michael Daley), Janet Archer (Audrey Fulk), and Dorothy Pringle (Clarice Ellinger) begin bickering and trying to keep the girls apart, life, love and complicated choices seem to get in the way.
Is Corliss having a "sordid affair," and who's pregnant? Will Corliss's arch nemesis Dexter Franklin (Matt Tiahrt), sink her ship? Who will win the fight? Who will save the day? The chase for answers is on, and what follows is a series of misunderstandings, wrong assumptions, gossiping, fisticuffs and a collection of wonderful characters who add to the bedlam.
Rounding out the characters are:  Raymond Pringle (Joe Evans), Private Earhart (Chapman Toman), Lieutenant Lenny Archer (Eric Calvert), Robert Pringle (Jacob Wine), Mary Franklin (double cast by Mackenzie Griffith and Haley Sanders), Bill Franklin (Zack Tiahrt), and Louise, the Archer's house keeper (Emily Thompson).  Also joining the cast will be two faculty members, Mr. Don Biggs who will play Mr. Willard, a house painter, and Mr. Joe Morris, who will play lovable Uncle George Archer.  Supporting the play will be stage crew members: Emma Holland, Alice Taylor, Leara Shumate, Jason Dustin and Corrie Moore as Stage Manager.
Directed by Mr. Stephen Winslow, show dates are:  Friday, April 25, 2014 and Saturday, April 26, 2014 at 7:00 PM in the Wilson Memorial High School Auditorium.  Admission is $10.00 for Reserved Seating, $8.00 for General Admission and $5.00 for Children under 12 and Wilson Memorial High School students.
Tickets may be ordered online through a link on the Wilson Memorial High School webpage: http://www.augusta.k12.va.us/Page/4703, by emailing Diana Beam at [email protected] or by calling the school at 540.886.4286.