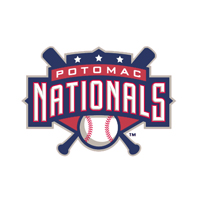 The Potomac Nationals (11-8, 4-4) were defeated by the Winston-Salem Dash (6-13, 3-5) 4-2 in the series opener of a three-game set at Pfitzner Stadium on Wednesday evening.
Amidst swirling winds that maintained throughout the night, Winston-Salem Dash RHP Tony Bucciferro (1-2), the winning pitcher, tossed an eight-inning gem to eclipse the P-Nats despite allowing nine base hits.
Bucciferro's outing was a career long start and the righty walked none while striking out five batters.
The Dash jumped out to a 1st inning 1-0 lead thanks to a leadoff walk issued to SS Tim Anderson that would come around to score on an RBI sacrifice fly from LF Courtney Hawkins. Anderson was put on third base as the losing pitcher, Nationals RHP Pedro Encarnacion (1-2) hurled an errant pickoff attempt up the right field line allowing Anderson to garner two bases.
Encarnacion allowed three runs, two earned, on eight hits including one home run through 4.2 innings while walking two and fanning four.
No Potomac Nationals pitcher in 2014 has cleared 5.0 innings of work thus far in the current campaign.
The P-Nats answered in their half of the opening frame to tie the contest at 1-1. 3B Oscar Tejeda socked a double into the left field corner and came up lame going into the second base bag. Pinch runner Justin Miller relieved Tejeda on the basepaths and he would be plated on an RBI single ripped through the hole at shortstop by 1B Kevin Keyes.
Winston-Salem plated individual runs in the second act via a pair of RBI singles to left center field and back up the middle respectively in the 4th and 6th innings from 3B Nick Basto and a solo home run bashed out to right field by DH Adam Heisler off Encarnacion in the 5th, his first dinger of the season.
The Nationals scored their single run in the 5th stanza. CF Will Piwnica-Worms gashed a leadoff double down the left field line and scored on an RBI groundout to the right side off the lumber of DH Khayyan Norfork to make it a 4-2 ballgame.
Nationals RHP Ian Dickson was solid in relief of Encarnacion going 4.1 innings and allowing just one earned run on two hits with no walks allowed and four Ks.
Dickson retired the last eleven batters he faced after he gave up Basto's second run-scoring single in the 6th.
Dash RHP Bryan Blough (SV 1) earned his first save of the season in the 9th but it wasn't easy.
With one out, C Pedro Severino and Piwnica-Worms hit back-to-back singles to bring the game-winning run to the plate before LF Randolph Oduber flew out to right field. But then Blough induced Norfork to lift a skyscraping popup to Winston-Salem 2B Joey DeMichele that ended the game and gave the Dash the one-game advantage in the series.
First pitch of Game Two amidst this three-game set is scheduled for 7:05pm on Thursday evening.
The Nationals will send LHP Nick Lee (0-2, 13.06) to the mound to face off with Winston-Salem RHP Braulio Ortiz (0-2, 4.38).
It will be a Thursday Cheers at Pfitzner Stadium tomorrow night featuring dollar drinks specials presented by: Yellow Cab.
The Potomac Nationals Baseball Network, which is accessible at www.potomacnationals.com, will broadcast the series Game Two on Thursday night beginning with the P-Nats Leadoff Show at 6:50pm before the live play-by-play at7:05pm.