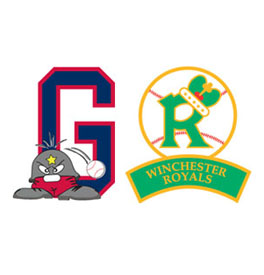 Winchester didn't get a hit until the eighth inning, but a three-run rally in the ninth off Waynesboro closer Austin Goss pushed the Royals to a 3-2 win over the Generals Thursday night at Kate Collins Field.
Waynesboro starter Will Lowman (sophomore, Kennesaw State) combined with two relievers to keep Winchester hitless through seven, with Lowman going six innings, striking out five and walking two. The Royals finally broke through in the ninth off Goss (freshman, USC-Upstate).
Goss (1-1), making his third appearance in three nights and his 10th on the season in 16 games, just didn't have it Thursday night, failing to get an out while giving up three runs, two earned. The inning started with a leadoff double by Jerry Downs and a walk to Michael Landestoy. Downs scored on an error by shortstop Tyler Orris off a grounder by Zachary Carter to cut the Waynesboro lead to 2-1.
Goss left after the error with a blister on his pitching hand for reliever Joe Marotta (junior, Central Florida), who promptly committed an error on a grounder by Wesley Hoover that allowed Landestoy to score the tying run. Marotta struck out Michael Sillyman for the first out of the inning, but the next hitter, Corey Chafin, doubled to left to score Carter and give Winchester the 3-2 lead before Marotta could get out of the inning.
Waynesboro went down quietly in the ninth, getting a two-out single by Mike Marcinko before Steve Pollakov grounded to short to end it.
The Generals are on the road Friday night at Charles Town.
More online at www.WaynesboroGenerals.net.