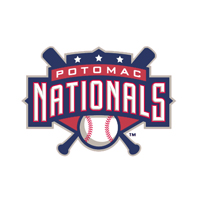 The Potomac Nationals (8-9) dropped the opening game of a four game set against the Wilmington Blue Rocks (9-9) 5-1 on Monday night at Pfitzner Stadium. RHP Luis Santos (W, 2-1) allowed a run and three hits over his six innings of work to earn the win.
The P-Nats struck first in the second inning when 3B Justin Miller pulled a double down the left field line. DH Mike McQuillan came all the way around from first to score the first run of the game. After that run, Santos, LHP Kyle Bartsch and RHP Mark Peterson (Sv, 17) shut down the Nationals' offense.
Wilmington tied the game up with one swing in the fifth on a solo bomb from 3B Jared Schlehuber off RHP Ian Dickson (L, 1-7). The Blue Rocks poured in two more in the sixth on three straight base hits from the top of the lineup. SS Raul Mondesi's triple scored 2B Ramon Torres. One batter later, CF Bubba Starling lined a ball down the third base line to put Wilmington up 3-1. P-Nats Manager Tripp Keister thought the ball was clearly foul and was ejected by Adam Beck because of it.
The Rocks added a couple of insurance runs in the eighth and ninth with RBI's from Starling and C Cam Gallagher. The P-Nats brought the tying run to the plate in the eighth when LF Randolph Oduber stepped up with two outs. Oduber popped out to the catcher Gallagher to end the inning.
The Potomac Nationals Baseball Network, which is accessible at www.potomacnationals.com, will broadcast the second game of a four game series against Wilmington on Tuesday, July 8th. Broadcast coverage will begin with the P-Nats Leadoff Show at 6:50pm in preparation for the 7:05pm start. The P-Nats will send RHP Brian Rauh (1-1, 5.08) to the mound while Wilmington will throw LHP Sean Manaea (2-7, 4.75).