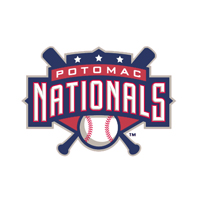 The Potomac Nationals scored three runs in a bizarre eight inning of misplays, interference calls, and even a unconventional double play to beat the Salem Red Sox 5-2 at LewisGale Field Monday night. The Nationals swept the three-game series, and have now won ten games in a row against Salem.
Oscar Tejeda led off the eight with a double. Randolph Oduber then bunted back to the mound, and Matty Ott threw to third late to put runners on first and third with no outs. Mike McQuillan then grounded to short, and Dreily Guerrero threw late to home, allowing Tejeda to score and give the Nats a 3-2 lead. With runners on first and second, Estarlin Martinez bunted back to the mound, and was called out for straying from the runners lane, sending the runners back to first and second. Craig Manuel then singled to load the bases, still with just one out off Matty Ott. A batter later, Cody Dent hit a ground ball that went under the glove of Guerrero, charged as an error. It scored both runners and gave the P-Nats a 5-2 lead. The inning would end on a line drive back to the mound, snared by Ott, who threw to first to double off Dent. Ott was charged with the loss, allowing three runs (two earned) on three hits in two and a thirds innings of work.
The Nationals opened the game with another first inning run. Tony Renda led off with a single off Sox starter Corey Littrell, scoring on an Oscar Tejeda double. Renda scored a first inning run in all three games of the series.
The Sox fought back to take a 2-1 lead in the bottom of the third. Dreily Guerrero doubled with one out off P-Nats starter Pedro Encarnacion, and moved to third on a single led by Matty Johnson. Carlos Asuaje brought home Guerrero on a groundout to first to tie the score. A batter later, Jantzen Witte tripled in Johnson to give the Sox the lead. Witte finished the series with seven extra base hits in the series.
Potomac tied the game in the sixth. With Littrell still in, Oduber reached on a fielders choice, and made it to third on a double by McQuillan. After Littrell was relieved by Ott, a wild pitch scored Oduber from third to tie the game at two.
Both starters picked up no decisions. Littrell finished with two runs allowed on seven hits in five and a third. Encarnacion went four innings, allowing four hits and two runs. Ian Dickson picked up the win in relief for Potomac.
The loss dropped Salem to a season low eight games under .500. Salem opens a three game set at Lynchburg tomorrow night at 7:05. Pat Light is on the bump for the Sox.