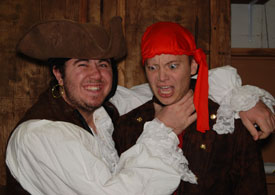 Did you know that pirates believed that wearing pierced earrings would improve their eyesight and that whistling on a ship would cause the weather to turn stormy? Learn more about modern-day pirates Feb. 23–26 at Waynesboro Players' premiere production of local author Matthew Warner's Pirate Appreciation Day.
In this comedy, a Waynesboro Players directorial debut for Caleb Towns, a group of buccaneers believes that hijacking a cruise ship on the Talk Like a Pirate Day holiday is the proper route to infamy. They discover more than they bargained for in a colorful ensemble of fellow passengers. By the time night falls of the first day at sea, a tentacled monster will be summoned, a sword fight will be fought with plastic butter knives, and someone will take a one-way voyage to Davy Jones' locker!
Playwright Warner gives the show a shining sendoff by thanking the "cast and crew for throwing caution (and dignity) to the wind, and for making me laugh to the point of illness."
The cast of this uproarious comedy features Michael Palmer as CJ; Savannah Olshove as Doris Nettleton; Tara Stoll as Gina; Megan Moore as Bridget; Tarken Davis as Walker D. Plank; Joseph Bruce as Hunky Guy; Ryan Moneymaker as Halitosis Halvard the Pink; Alex Maneval as Paisley Nettleton; Michael Vayvada as Frederick Feedle Fillingsworth; David Reznik as Ned Nettleton; Colt Fitzgerald as the captain; with Tony Matterson, Mary Beth Poole, Nicole Frazer, Josh Dodson, and Alice Heitzenrater as crew and passengers.
Towns directs this production with assistance by Victoria Ray, producers Becky Price and June Hall, and stage manager Elizabeth Bruce.
The show runs Feb. 23–25 at 8 p.m. and Feb. 26 at 2 p.m. at Kate Collins Middle School, Waynesboro. Tickets are $10 for adults, and students (high school and under) $6.
Tickets will be available online at www.waynesboroplayers.org, at the door and at various locations in Waynesboro, Fishersville, Stuarts Draft, Verona, and Staunton (a list can be found online).