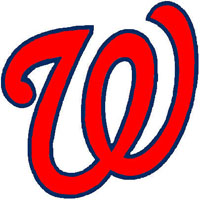 Washington went deep three times, and Tanner Roark went seven innings in a 7-4 win over the Milwaukee Brewers on Wednesday.
Roark (8-5, 3.08 ERA, 1.22 WHIP) gave up four runs on seven hits in seven innings, striking out six and walking one.
Jonathan Papelbon (17 saves, 3.04 ERA, 1.24 WHIP) struck out the side in a 1-2-3 ninth to nail down the save.
The win allows the Nats (51-35) to maintain their four-game lead on the New York Mets in the National League East as Washington heads up the coast for a four-game weekend set at Citi Field beginning Thursday night.
Bryce Harper (.258/.400/.495, 18 HR, 51 RBI), Ryan Zimmerman (.221/.284/.402, 12 HR, 38 RBI) and Jose Lobaton (.191/.295/.324, 2 HR, 5 RBI) all homered for the Nats.