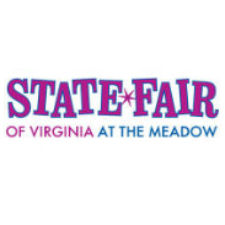 Battered, dipped and fried describes many of the mouth-watering foods at this year's State Fair of Virginia.
Whether you choose a deep-fried peanut butter and jelly sandwich, chocolate-covered corn dog or pumpkin funnel cake, eating at this year's fair is no time to worry about calories.
Traditional sausage and pepper sandwiches and giant turkey legs will be served, along with more adventurous pork parfaits, deep-fried cheeseburgers and Krispy Kreme Sloppy Joe sandwiches. For fairgoers with a sweet tooth, there is chocolate-covered cheesecake on a stick, deep-fried Twinkies and Ho Hos, Dippin' Dots ice cream, frozen bananas dipped in chocolate and rolled in Reese's pieces, chocolate-covered strawberries, elephant ears, kettle corn and more!
New this year are Rockin' Rolls' cinnamon rolls and The Pretzel Lady's hand-rolled soft pretzels and pretzel dogs.
Most food vendors will be located along the fair's Festival Loop area, just outside the Farm Bureau Center exhibition hall. That's where you'll find spaghetti, pizza, chicken on a stick, sirloin tips, steak on a stick, corn dogs and many other delights.
Plenty of other food vendors will be located throughout the fair, including Virginia Tech's Block & Bridle Club, which will be serving its famous barbecue and rib-eye sandwiches in the Equine & Livestock Complex. Virginia State University will once again be serving fried catfish and fried chicken in the Harvest Landing area near the Meadow Pavilion and Meadow Hall. Inside the Meadow Pavilion, Pelican Joe's will be dishing up mini doughnuts fried in soybean oil.
Beside the field crops growing in Harvest Landing, fairgoers will find roasted corn on the cob, boiled peanuts and fresh-squeezed lemonade. And beside Heritage Village, which will showcase agriculture at the turn of the 20th century, Deere Horn's Homemade Ice Cream will be scooping ice cream made on site with equipment powered by a 1.5-horsepower John Deere hit-and-miss tractor engine.
Information about this year's State Fair of Virginia is available at StateFairVa.org.
The State Fair is held each fall at its permanent home at The Meadow Event Park in Caroline County. The fair's mission is to increase agricultural and natural resource awareness and interest through educational programs, exhibitions and competitions in a fun, family-friendly setting.