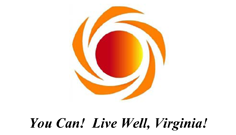 Are you interested in helping people learn to positively manage their diabetes and make healthy behavior changes? Would you like to participate as a volunteer in a community health education program?
Valley Program for Aging Services is offering training aimed at building up a cadre of community leaders who can assist local residents in getting the help they need to get their health back.
VPAS is offering Diabetes Self-Management Program (DSMP) Leader Training July 17, 18, 21 and 22 from 9 a.m. 4:30 p.m. at the Augusta Health Community Care Building (Room 1), 64 Sports Medicine Drive, Fishersville.
Lunch, water and light snacks will be provided as well as all necessary workshop supplies.
This free training will provide participants with the skills and certification needed to be leaders in the "You Can! Live Well, Virginia!" Diabetes Self-Management Program. Leaders will be trained to co-lead workshops which are offered free of charge and are held 2 ½ hours once a week for six weeks in a variety of locations throughout the community.
These workshops are designed help adults with diabetes better manage their chronic conditions. Participants will make weekly action plans, share experiences, and help each other solve problems they encounter in creating and carrying out their self-management program. Workshops are led by two trained leaders, many of whom have chronic conditions themselves, and include active involvement by participants.
Mutual support and success build the participants' confidence in their ability to manage their health and maintain active and fulfilling lives.
Workshop topics include:
Techniques to deal with the symptoms of diabetes, fatigue, pain, hyper/hypoglycemia, stress, and emotional problems such as depression, anger, fear and frustration
Appropriate exercise for maintaining and improving strength and endurance
Healthy eating
Appropriate use of medication
Working more effectively with health care providers
For more information or to register to participate in leader training, call Joyce Nussbaum at VPAS at 540-820-8567 or email at [email protected].
More information on the VPAS DSMP program is online at www.ValleyCDSME.com.