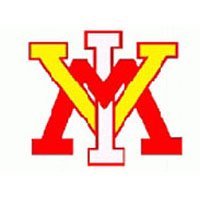 Brandon Angus singled home the winning run with two outs in the bottom of the ninth inning, completing a stunning comeback win by the VMI Keydets over the Radford Highlanders, 9-8, in Big South baseball action Saturday at Gray-Minor Stadium. The win gave VMI (10-9, 1-2 Big South) a split of Saturday's doubleheader with Radford (11-9, 2-1 Big South).
After VMI had climbed within a run in the eighth, Nygeal Andrews retired Will Malbon and Matt Winn to open the ninth. Thomas Stallings then grounded to short on the first pitch, seemingly ending the game, but Chris Coia's throw was high and first baseman Alexander Lee could not get his foot down to the bag in time. The throwing error gave the Keydets life, as Andrews then plunked pinch-hitter David Geary with a 0-1 offering. Jordan Tarsovich then stroked a 0-2 pitch for a single to right field, scoring Stallings to tie the game, 8-8. Geary moved to third on the play and Angus followed with a looping fly ball to left that fell in front of Patrick Marshall for VMI's second walk-off hit of the season.
The drama was not limited to the ninth inning, as both coaches – Radford's Joe Raccuia and VMI's Marlin Ikenberry – were ejected from the game in the middle innings. It was Ikenberry's first ejection since early in the 2009 season against Rider. In addition, the three hour, 48 minute contest was the longest nine-inning game played at Gray-Minor Stadium since April 3, 2011, when the Keydets were involved in a three hour, 57 minute affair.
The decisions went to the bullpen, with Travis Thomas notching his second win of the year. Thomas walked two in 1 1/3 otherwise perfect innings, while Andrews dropped to 1-3 with the loss for RU. He surrendered three runs, only one of which was earned, and walked two in 2 2/3 innings of work.
After taking game one, it was Radford that jumped ahead early against VMI starter Andrew Woods. Coia had a RBI single in the second inning to start the scoring and begin a five-run Highlander uprising in the frame. The key play of the inning came on a Blake Sipe RBI hit that snuck under the glove of left fielder Gary LeClair and rolled all the way to the wall, allowing for two extra bases and eventually two unearned runs.
The Keydets got on the board in the bottom half, when Will Connerley blooped a double down the right field line. One batter later, Connerley moved to third base on an infield out and Stallings bounced a single through the right side to make it 5-1, Radford.
After Woods threw his second double play in as many innings to end the third, VMI's offense finally exploded in its half. Tarsovich drilled a double to right-center to lead off the inning, and after a sacrifice bunt, Red Dowdell dropped a double down the left field line that landed on the line's chalk. Tarsovich scored easily to cut the deficit to 5-2. Cameron Walter followed with a double of his own, and Connerley then singled home both runners to make it a 5-4 contest. After a strikeout, Eric Mayers had a game-tying single, scoring Connerley and he promptly stole second against reliever Daniel Bridgeman. Stallings then singled once again, scoring Mayers and giving VMI its first lead, 6-5.
Radford threatened in the fifth against Woods, when Josh Reavis singled to lead off the inning. After two strikeouts, Reavis stole second, but with third baseman Hunter Higgerson at the plate, RU coach Raccuia was ejected from the game. Higgerson would draw a walk, but Andrews fouled out to Angus in right field to end the threat.
RU broke through in the sixth against the Keydet bullpen. Taylor Edens started the inning and Josh Gardiner led off with a single. He stole second and Coia advanced him to third with an infield out. Sipe then singled to center, tying the game at 6. Aaron Scoville walked to end Edens' night, and Rian Ellis came on to walk Reavis and load the bases. Jonathan Kelley relieved Ellis and induced a fielder's choice groundout, retiring Sipe at home, but would walk Lee in an 11-pitch at-bat to force in the go-ahead run. Ikenberry was ejected following the walk, and after the ejection, Berkley Hawkins retired Higgerson to prevent further damage.
The Highlanders got an insurance run in the seventh, when Andrews scored on a looping line drive by Coia that Tarsovich narrowly missed catching at second base. That made it an 8-6 game, but VMI rallied in the eighth.
Josh Worthley led off with a pinch-hit single and Tarsovich walked. A sacrifice bunt moved both runners up, and after a checked-swing roller retired Dowdell, Worthley scored on a wild pitch to make it 8-7, RU.
VMI's Thomas walked Higgerson to open the ninth, and after a sacrifice bunt, the runner moved to third on a wild pitch. The Keydet closer promptly struck out Gardiner looking, and after a walk to Coia, induced Sipe to foul out to Angus in right field to set the stage for the ninth-inning comeback win.
Offensively, six Keydets had two hits apiece to fuel the team's 15-hit attack, including Walter's 2 for 3 day that made him 4 for 5 over the two games of Saturday's doubleheader. Coia was 2 for 3 and drove in two runs to lead Radford.
Both starting pitchers were gone fairly early, with VMI's Woods knocked out after five innings. He was charged with five runs, three of which were earned, while spot starter Mitchell MacKeith was roughed up for six runs on nine hits in just 2 2/3 innings for the Highlanders.
VMI baseball is currently scheduled to return to action Tuesday, playing host to Canisius at 4 p.m. Authorities are currently monitoring the winter weather system expected to impact southwest Virginia Sunday and Monday, and VMIKeydets.com will release any schedule changes that may occur as soon as they become available.