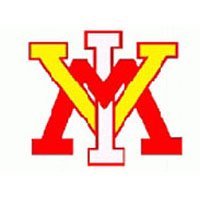 A seven-run uprising in the seventh inning turned the game around and sent the VMI Keydets past the Radford Highlanders, 8-7, in non-conference action Tuesday night in Radford, Va.
It was 4-1 Radford (8-21) entering the seventh, but a RBI walk to Ryan Smoot, who was making his first career start, made it 4-2. A bunt attempt by Will Malbon was mishandled by the pitcher, allowing another run to score, and VMI (16-17) tied it on a fielder's choice groundout off the bat of Nathan Eaton.
David Geary then tacked on two more runs with a single, and Matt Pita did the same to cap the Keydet scoring. RU got two runs back in the seventh and one in the eighth, but Taylor Edens struck out the potential go-ahead run with the tying run at first base to end the game.
Blaine Lafin (1-1) picked up the victory in relief, as he allowed two runs in one inning of work, and Edens worked the last three frames for his sixth save. The loser was Marc Krupp (1-1) who gave up three unearned runs in the decisive seventh.
RU jumped ahead in the second with three runs against Jack Gomersall, who was making his first career start, and pushed across another run in the third. Meanwhile, the Keydets had only one hit before breaking through for a single run in the sixth. Smoot led off with a double, Malbon moved him to third on a infield out and one batter later, Geary singled him home to make it 4-1.
The Keydets then sent 12 men to the plate in the decisive top of the seventh and scored seven runs on just five hits. A double steal and a RBI single for Colby Higgerson chopped the lead to 8-6, and an eighth-inning wild pitch made it a one-run game. Higgerson singled with two outs in the ninth, but Zach York struck out to end the game.
Offensively, the Keydets were led by Geary's 3 for 5, three-RBI night, while Smoot went 1 for 2 with two walks and two runs scored in his first career start. Adam Whitacre went 3 for 4 with two runs scored to lead the home team.
VMI baseball will return to action Friday, when the Keydets open a series against Western Carolina at Gray-Minor Stadium. First pitch is set for 6 p.m.