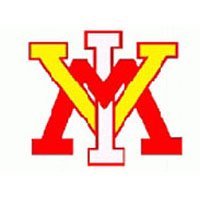 Jordan Tarsovich broke a 5-5 tie with a three-run triple in the 12th inning, Blaine Lafin picked up his first collegiate win and Gary LeClair ended the game with a spectacular catch in left field, helping the VMI Keydets top the VCU Rams, 8-6, in 12 innings Wednesday night at The Diamond in Richmond, Va. The win was VMI's third this season over a team currently ranked in the top-31 in RPI and was the Keydets' fourth in the last six games between the programs.
After VCU (20-6) had tied the game with a run in the ninth inning, the Keydets (16-10) answered in the 12th and they did so with two out. Red Dowdell had an infield hit and Matt Winn was hit by a pitch. Josh Worthley pinch hit, and after falling behind 0-1, worked a walk. Tarsovich then launched a 0-1 pitch deep into the right-center field gap, clearing the bases and giving VMI the lead, 8-5.
VCU responded in the bottom of the inning, as Cody Acker led off with a single. James Bunn hit into a fielder's choice, and one out later, Vimael Machin doubled to straightaway center field, cutting the VMI lead to 8-6. Pinch-hitter Damien Carpenter then singled, putting the tying runs on base, and Bill Cullen hit a long fly ball into foul ground in deep left field. LeClair, going full speed toward foul territory, made a sliding catch against the wall separating foul ground from the stands to end the game and preserve VMI's seventh win in its last eight games.
On the mound, Lafin (1-0) picked up his first collegiate win with three solid innings, scattering five hits in his longest outing as a Keydet. He allowed one run on five hits and struck out two. Matt Lees was charged with the loss (4-2) after giving up three runs in four innings.
After four scoreless innings, the Keydets jumped ahead in the fifth. Will Connerley was hit by a pitch and stole second. Dowdell walked and Matt Winn followed with an attempted sacrifice bunt. Second baseman Matt Davis came off the first base bag, however, and allowed Winn to reach on the play to load the bases. One out later, Tarsovich was hit by a pitch to force in a run and Angus followed with a two-run double, making it 3-0, VMI. Tarsovich then scored on a wild pitch and Mayers followed with a RBI single, plating Angus for a 5-0 Keydet lead.
VCU answered in the bottom half, as Cullen had a one out single. Davis followed with a single that was overrun in right field for an error, allowing Cullen to score, and one out later, Trevor Marino singled home Cullen to make it 5-2.
That was the score headed to the eighth inning, when Travis Thomas came on and plunked each of the first two Ram hitters. Both would eventually score and leave Bunn at first with two outs, representing the tying run. Bunn tried to steal, however, and was thrown out by catcher Winn to end the inning.
The Rams would tie it in the ninth, however. Chris Ayers led off with a double against Jonathan Kelley and Landon Prentiss pinch-ran at second base. One out later, Berkley Hawkins relieved and one of his first pitches was in the dirt. Winn blocked the ball and kept it in front of him, but Prentiss tried to break for third. He was thrown out easily for the second out of the inning, and that play proved to be critical. Davis followed with a walk and Logan Farrar singled. Hawkins got ahead of Marino 1-2, but gave up a tying RBI single to knot the score, 5-5.
The Keydets left a combined five runners on base in the first two extra frames, while Lafin worked a 1-2-3 10th. VCU rallied in the 11th, but with two on and two out, the VMI hurler struck out Marino to end the inning and set the stage for the eventual winning rally.
Offensively, the Keydets were led by David Geary and Angus, who each posted three hits while Tarsovich had four RBI on the night. Four VMI players, including Marino, had two hits in the contest.
Neither starter figured in the decision, although Campbell Henkel was brilliant over his 3 1/3 innings. He did not allow a baserunner and struck out five, while his opponent, Daniel Concepcion, allowed five runs (four earned) over five innings. With the victory, VMI continues to be unbeaten when holding the lead at the conclusion of any inning this season.
The 12-inning contest was VMI's longest since March 29 of last season, when the Keydets played 12 innings against Coastal Carolina. In addition, Connerley was the first Keydet since April 1, 2006 to be hit by a pitch three times in one game as VMI was plunked six times Wednesday night, the team's most hit-by-pitches drawn since nine in that same 2006 tilt.
VMI baseball will return to action Friday, as the Keydets travel to Lynchburg to open a series with the Big South-leading Liberty Flames. Action gets underway at 7 p.m.