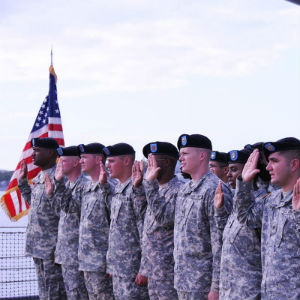 A collaboration between the U.S. Army Research Institute for the Behavioral and Social Sciences and the Biocomplexity Institute of Virginia Tech signals a new era for data science in the military.
The primary objective of this research project is to assess the best approaches for successfully accessing and integrating Department of Defense data and other data sources to expand the types of questions the data might inform — in particular, the study of important recurring issues to the military, such as attrition. The study will document the issues, problems, and solutions for future research.
The $1.7 million project is part of a new partnership between the Biocomplexity Institute and the U.S. Army Research Institute that emphasizes the need to gain an in-depth understanding of our military population and to create an integrated eco-system of multiple data sources.
Sallie Keller, director of the Social Decision Analytics Laboratory at the Biocomplexity Institute, and her research team are embarking on the project with the U.S. Army Research Institute.
Together, they will assess the ability to access, evaluate the quality of, and integrate Department of Defense data to support decision-making related to the military population. This research will be grounded in the context of a real problem: identifying predictors of attrition within enlisted ranks and understanding the effects of attrition on the Army and how to mitigate them.
In the current era of Big Data, the military is working to use all the information it possesses to its best advantage — attracting new talent, answering modern challenges, and being poised for the future.  The research of the Social Decision and Analytics Laboratory in the National Capital Region is helping to propel that vision forward by providing analytical insight.
"There is no social barometer or social picture for one of our most important assets, the military population. This study promises to truly help establish the field of data science within the Department of Defense," said Keller, who is a professor in the Department of Statistics at Virginia Tech.