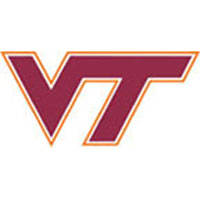 FedExField, home of the Washington Redskins, announced today the addition of another high-profile college football game to its schedule. Virginia Tech and West Virginia will open the 2017 college football season in a matchup set for Saturday, Sept. 2, 2017.
"We are excited to welcome Virginia Tech and West Virginia to FedExField in 2017," Redskins Chief Marketing Officer Mitch Gershman said. "We are proud to continue the commitment to our season ticket holders and fans to host the most competitive and nationally acclaimed matchups in the country."
The Sept. 2, 2017 game will mark Virginia Tech's fourth appearance at FedExField since 2004 and West Virginia's third since 2012, as the program is also set to face BYU at FedExField on Sept. 24, 2016.
Led by head coach Frank Beamer, the winningest active coach in the Football Bowl Subdivision (FBS), Virginia Tech has won 10 or more games 11 times during the past 15 seasons, including 13 of the past 18 seasons. With its trip to the Hyundai Sun Bowl last year, Virginia Tech is now one of only two teams in the country to go to at least 21 bowls in row.
"It is an exciting matchup for both schools' fans to look forward to," said Whit Babcock, Virginia Tech Director of Athletics. "I appreciate the work of Coach Beamer and Associate AD John Ballein in arranging this extremely strong non-conference matchup. Not only will the game renew a passionate rivalry, it will also be played at a site that is centered in a major alumni base for both schools."
West Virginia has been one of the elite programs in the nation this decade, winning 101 of its last 142 regular-season games, ranking No. 14 all-time in college football winning percentage and earning 11 bowl trips in 12 seasons.
"West Virginia University had a great experience at FedExField in 2012, and we are looking forward to playing there again against Virginia Tech," said Oliver Luck, WVU Director of Athletics. "Not only do our players enjoy playing in NFL stadiums, West Virginia has a lot of alumni living in the Washington, D.C. metro area and playing at a great venue like FedExField gives our fans a road game that is in close proximity. West Virginia and Virginia Tech have had a great historical rivalry over the years, and it's great that the two schools can renew the series, starting in Washington, D.C. in 2017, and then two games in 2021 and 2022."
Redskins' premium season ticketholders enjoy a right of first refusal for tickets to events held at FedExField. Information on tickets sales and kickoff time will be released at a later date.
FedExField will also host other high-profile college football games such as Navy vs. Notre Dame on Nov. 1, 2014; Brigham Young vs. West Virginia on Sept. 24, 2016 and Maryland vs. Texas on Sept. 1, 2018.