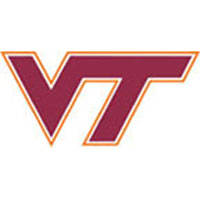 Virginia Tech and Ohio State have agreed to move the return game of their football home-and-home series in 2015 to Labor Day Monday night, Sept. 7, the two schools announced Wednesday.
The game will be televised nationally by ESPN as part of its agreement with the Atlantic Coast Conference and will be played at Tech's Lane Stadium in Blacksburg, Va.
The two schools begin a two-year home-and-home series next season as the Hokies travel to Columbus, Ohio, to face the Buckeyes on Sept. 20, 2014.
The 2015 Labor Day Monday night game will be the 11th year an ACC team or teams has filled the coveted Labor Day Monday Night time slot for ABC or ESPN. That includes every year but the 2008 season since the ACC began its Labor Day Monday game in 2004.
This also marks Virginia Tech's third appearance on Labor Day Monday night. The Hokies played Boise State at FedEx Field in Landover, Md.,  in 2010, dropping a last-minute 33-30 decision, to the Broncos and hosted Georgia Tech in 2012, taking another dramatic contest, 20-17 in overtime. Ohio State's appearance marks the second time an ACC team has faced a non-conference opponent in the game. The Virginia Tech-Boise State contest was the first.
ESPN's Monday Night game has traditionally drawn strong TV ratings, averaging a 5.3 in the previous nine games, including a 7.3 mark for the Virginia Tech-Boise State telecast.