"In recent years, we've seen big data revolutionize the way business leaders approach decision-making," said Sallie Keller, director of the Biocomplexity Institute of Virginia Tech's Social and Decision Analytics Laboratory. "It's time to level the playing field. Together, we can bring those same benefits to the public sector and improve day-to-day life in our communities."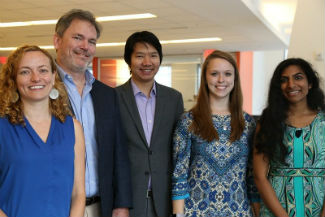 This statement from Keller marked the conclusion of her laboratory's third annual Data Science for the Public Good Program (DSPG), a 10-week learning experience where students and faculty team up to tackle persistent problems in local, state, and federal government.
Leaders in law enforcement, education, transportation, and emergency services were in attendance for the DSPG symposium, where students presented the results of their initial data analyses — studies that Keller's lab will pursue in greater depth throughout the coming year.
One of these project sponsors was Capt. Bruce Benson, a 23-year veteran of the Arlington County Police Department. Serving a population of nearly 230,000, his department is interested in learning where they could invest their time and resources to better prevent crime.
"As officers, we know what we're seeing out there on our beats every day; we have training and professional experience telling us how to approach those problems. What we want to see more of is the big picture, the factors that led up to that moment where we had to intervene," said Benson. "The great thing about working with the DSPG program is that they can combine our crime data with other sources of information to give us a better, more accurate picture of what's actually happening out there."
Benson represents a growing number of government agencies seeking to expand the role big data plays in their day-to-day operations. Since launching the pilot program in 2015, DSPG has expanded to serve five Virginia counties, including regional agencies like the Washington Metropolitan Area Transit Authority and national organizations like the U.S. Army Research Institute.
"The most satisfying thing about these projects is that you know your work is really going to make a difference," said Hannah Brinkley, a 2017 DSPG participant and rising sophomore in Virginia Tech's College of Science. "Our work represents a first step toward improving public programs that affect people every day — this work will always be essential, and there's always more improvements to be made."
In addition to the satisfaction of serving local communities, hands-on experience in data science research has proven to be an invaluable asset for students preparing to enter the job market. The company review site Glassdoor recently published its ranking of the 50 Best Jobs in America based on median reported salary, job openings, and career opportunities. "Data scientist" took top marks.
With all of the job opportunities available to aspiring data scientists, DSPG program leaders are hoping that early exposure to projects in the public sector will motivate students to continue using their statistical skills to serve the public good.
"Most of the issues that our local governments deal with don't stay neatly contained within their boundaries," said Aaron Schroeder, co-lead instructor of the DSPG program. "The more data scientists we have working on the local level, the more these agencies will be able to collaborate and examine issues from all sides."
Students and public-serving organizations interested in collaborating with DSPG are invited to explore the program's online archive of research projects.