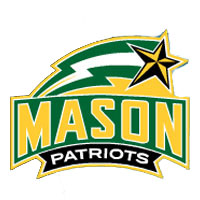 In the Atlantic 10 Conference opener for both teams, VCU shot 40.9 percent from the floor to capture a 71-47 victory over George Mason Saturday afternoon. Marquise Moore led Mason with 14 points while Shevon Thompson pulled down a game-high 14 rebounds.
Game Notes: George Mason vs. VCU
-Mason won the tip, but was held scoreless through the first five minutes and was held without a field goal until Moore knocked one down at the 13:43 mark, setting the score at 7-4 in favor of the Rams.
-Julian Royal cut the score to one point with a bucket that followed, but VCU pushed its lead back out to five points with a pair of consecutive field goals.
-After Otis Livingston II connected from the field at 8:14, VCU erupted for a 16-2 run over the next 3:41 of play to take its largest lead of the half at 29-13 with 4:21 to play in the first period.
-Livingston drained a triple to end the half as Mason trailed 33-22 at intermission.
-Coming out of the halftime break, VCU would lead by 12 points, but a 6-0 Patriot spurt cut the score to single digits as Mason trailed the Rams 37-31 with over 14 minutes to play.
-VCU responded with a 17-5 run to take an 18-point advantage and pushed its lead out to 21-points on an Ahm Hamdy Mohamed field goal at the 6:34 mark.
-The Rams would hold their largest lead of the game with 3:47 left to play, leading 68-41.
Stats Breakdown
-Marquise Moore led Mason with 14 points shooting 5-of-8 from the field and 4-for-4 from the charity stripe.
-Otis Livingston II was Mason's second player in double-figures, finishing with 11 points.
-Shevon Thompson paced all players on the glass, pulling down 14 rebounds. VCU narrowly won the battle on the boards, 42-40.
-For the game, Mason shot 32.1 percent and 64.3 percent from the free throw line (9-14). The Patriots committed 22 turnovers, allowing VCU to convert the miscues into 24 points.
-The Rams shot 40.9 percent for the game led by Melvin Johnson with 22 points. Mohamed added 16 points as Korey Billbury finished with 10 points. JeQuan Lewis contributed eight points and six assists.
-VCU outscored Mason in the paint 38-22 and recorded 13 steals.
Up Next
-Mason returns to EagleBank Arena on Wednesday for its A-10 home opener welcoming St. Bonaventure at 7 p.m. on ASN/MASN.