Staff Report
UVa. news: www.virginia.edu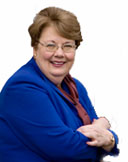 Teresa Sullivan will succeed John Casteen as president of the University of Virginia, the school's Board of Visitors announced on Monday.
Sullivan is currently the provost and executive vice president for academic affairs at the University of Michigan. She will become UVa.'s eighth president on Aug. 1.
Sullivan was unanimously elected by the Board of Visitors at a meeting of the board Monday afternoon.
Casteen is completing his 20th year as the president of the university this year.