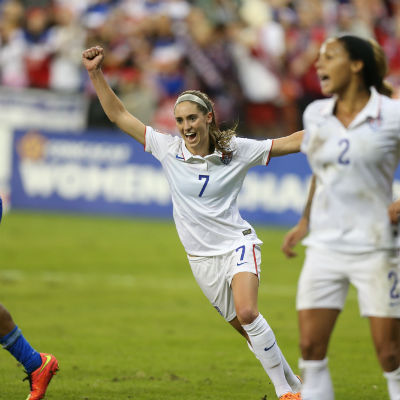 UVA senior Morgan Brian (St. Simons Island, Ga.) made her CONCACAF world cup Qualifying debut Monday night and scored her third international goal as the United States defeated haiti 6-0 at RFK Stadium. Brian's tally in the 82nd minute was the final goal of the evening for the Americans.
Brian entered in the 63rd minute and played the final 27 minutes to record her 14th cap with the United States Women's National Team. She tallied her third international goal as she one-timed a left-footed strike from inside the box off an assist from Christen Press. Of her three goals for the USWNT, two have been at RFK Stadium as her first international goal came in a 7-0 win over Mexico last year in Washington.
"(Christen) Press slotted a really a nice ball back to me, I saw what was open and hit the shot," said Brian. "This tournament has been a great experience. I have learned a lot about the quality of play during qualifying and what it takes to win at this level. I like playing here (in Washington), the only thing missing this time was my Virginia teammates in the crowd."
Brian is the only collegiate player on the USWNT roster for qualifying.
The United States won Group A of the CONCACAF qualifying with wins over Trinidad and Tobago, Guatemala and haiti. They will meet the runner-up of Group B in the semifinals on Friday in Philadelphia. The top three teams from the tournament will advance to next yeat's World Cup, while the fourth place team will play for an addition spot in a playoff against a South American nation.