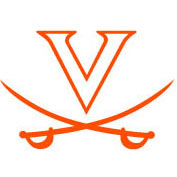 The Virginia baseball team shut out Towson, 8-0, Tuesday at Davenport Field. Four Virginia pitchers combined on a three-hitter for UVa's first shutout of the season.
The teams will play the back end of the series at 5 p.m. Wednesday at Davenport Field.
The Cavaliers (16-8-1) piled up 13 hits in the win. Nick Howard (Fr., Olney, Md.) picked up a career-best three hits, while Chris Taylor (Jr., Virginia Beach, Va.) had a pair of hits and three RBI for Virginia. Derek Fisher (Fr., Rexmont, Pa.) and Keith Werman (Sr., Vienna, Va.) added a pair of hits each.
UVa reliever Kyle Crockett (So., Poquoson, Va.) earned the win and improved to 1-2 after retiring all five batters he faced. He struck out three. Making his first start of the season, Shane Halley (Sr., Burke, Va.) worked 4.1 innings and allowed two hits and three walks while striking out four. Austin Young (So., Mechanicsville, Va.) pitched a perfect seventh inning before Joel Effertz (Jr., Ladysmith, Wis.) shut the Tigers out over the final two frames.
Towson starting pitcher Paul Beers (1-2) took the loss after allowing three earned runs, four hits and four walks in 3.0 innings. The Tigers fell to 12-11 with the defeat.
Virginia scored runs in the first and second innings to grab an early 2-0 edge. In the first, the Cavaliers drew back-to-back walks to start the inning and Stephen Bruno (Jr., Audubon, N.J.) bunted the runners over a base. Mike Papi (Fr., Tunkhannock, Pa.) then hit a grounder that scored Taylor. With one out in the second, three straight Cavaliers reached base to load the bases before Taylor slapped a single to right to bring Howard home.
The Cavaliers manufactured a run in the fourth inning without a hit as Mitchell Shifflett (So., Poquoson, Va.) drew a leadoff walk, stole second, moved up on a Werman sacrifice and scored on a Taylor sacrifice fly.
UVa put up another run in the sixth to stretch its lead to 4-0. Werman led off with a single, then moved to third on a hit-and-run single from Taylor. Branden Cogswell (Fr., Ballston Lake, N.Y.) followed by putting down a squeeze bunt, and Werman scooted home for the score.
The Cavaliers broke the game open with a three-run seventh inning. Jared King (Sr., Radford, Va.) was hit by a pitch to start the inning and scored when Fisher hit his league-leading fifth triple of the year. Howard followed with a single to left-center to plate Fisher, and he scored three batters later when Taylor grounded out.
Bruno hit a solo home run to left field to lead off the eighth inning for UVa's final tally. It marked his second homer of the year.