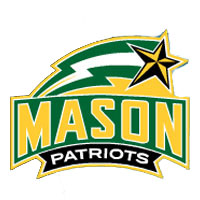 A late rally from George Mason men's basketball fell short on Sunday afternoon as Massachusetts sealed a 66-62 victory in the Patriot Center. UMass opened an 11-point lead using an early run in the second half, but the Patriots sliced the deficit, setting up a one possession game with less than a minute to play.
Mason trailed by 10 points at the 6:15 mark in the second half before it quickly began to chip away at its deficit, slicing the score to four, 60-56, with 1:02 remaining. The Patriots cut it even further as Patrick Holloway hit the front end at the free throw line with 29 seconds left as the Patriots pulled down the offensive rebound and Holloway was sent back to the charity stripe for two more. The junior converted both for a 62-61 score with 23 seconds on the clock. Grabbing a steal, Corey Edwards looked for the go-ahead shot, but was blocked on the attempt and UMass finished 4-for-4 from the free throw line to seal the win.
Mason led at the half, 35-33, thanks to a 53.6 percent shooting effort and a balanced offensive attack. UMass shot 46.4 percent in the first half and opened the contest on fire, hitting its first five three-pointers. Mason took its first lead of the contest off an Edwards triple, 27-26, with 7:25 to play.
For the game, Shevon Thompson led Mason with his seventh double-double of the season behind a team-high 12 points and game-high 16 rebounds and five blocks; Patrick Holloway and Edwards both added 11 points to the board. Despite Thompson's 16 rebounds, the Minutemen out-rebounded the Patriots, 45-39, behind Cady Lalanne's double-double of 14 rebounds and 10 points. Trey Davis led UMass with 14 points. UMass' 45 rebounds and 20 offensive boards both marked season-highs for the Minutemen.
The Patriots finished 38.2 percent from the field and 15-for-26 from the charity stripe as UMass wrapped up the game with a 39.3 percent efficiency and went 10-for-17 at the free throw line. At the break, the teams were a combined 1-for-8 at the free throw line.
Mason returns to action at St. Bonaventure on Wednesday, January 14 at 7 p.m. The two teams will square off in the Blue Cross Arena in Rochester, N.Y. and the game will be televised on MASN.