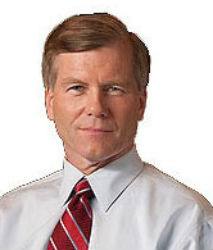 The United States Supreme Court agreed Friday to hear an appeal of former Virginia Gov. Bob McDonnell's conviction on corruption charges.
McDonnell, a Republican who served as governor from 2010-2014, was convicted in September 2014 in a case involving what prosecutors called a "quid pro quo bribery scheme" with a former Virginia businessman who had befriended the governor and First Lady Maureen McDonnell.
Both were convicted in the case of taking more than $177,000 in gifts and loans from Star Scientific CEO Jonnie Williams in exchange for efforts to promote a dietary supplement through the governor's office.
Bob McDonnell was sentenced to two years in federal prison, and Maureen McDonnell faces a year in prison.
But neither has served any of the time sentenced yet. The Supreme Court voted in August to allow Bob McDonnell to remain free on bond pending a hearing into his appeal.
Bob McDonnell thanked the high court in a statement on Friday.
"I am innocent of these crimes and ask the court to reverse these convictions," he said. "I maintain my profound confidence in God's grace to sustain me and my family, and thank my friends and supporters across the country for their faithfulness over these past three years."