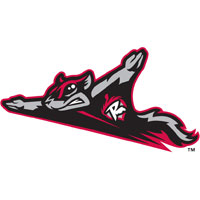 The trenton thunder (18-10) stormed past the Richmond Flying Squirrels (15-11), 8-1, at ARM & HAMMER Park on Friday night.  The meeting was the first of the season between the two clubs and was effectively decided when the Thunder scored six times across the sixth and seventh innings.
Gary Sanchez put the Thunder on top when he led off the second inning with a solo-home run off of lefty Adalberto Mejia.  Sanchez's third of the season was a high-arching blast to center field.  Mejia followed the home run with a walk issued to Kyle Roller.  It came back to haunt him as Roller advanced to second on a ground out and scored when Kelby Tomlinson commited an error.  Trenton enjoyed a 2-0 lead, with one of the runs unearned against Mejia.
Trenton right-hander Graham Stoneburner held off the Squirrels through the first three innings.  However, they picked up their first run against him in the fourth.  With one out, Angel Villalona yanked a double into the left-field corner.  Mario Lisson followed and banged a double high off the wall in left-center field.  Villalona scored easily to cut the Richmond deficit to a lone run, 2-1.
The Thunder grabbed control of the game and chased Mejia in the bottom of the sixth inning.  Brendan Ryan led off with a single and Rob Segadin followed with a low-flying two-run home run to left field that made it 4-1 Trenton.  Mejia recorded the first out of the inning, but was then removed after conceding a single Kyle Roller.  Lefty Phil McCormick entered and Roller swiped second base.  He scored when Yeral Sanchez chopped a single back through the middle.
Mejia (1-2) was saddled with his second loss over 5 1/3 innings.  He surrendered five runs – four earned – on five hits, walked two and struck out four.
Stoneburner (1-0) earned the victory over 5 2/3 innings.  He permitted just the lone run on four hits, walked one and struck out three.
Trenton put the game away with three more runs against lefty Josh Osich in the seventh inning.  Roller highlighted the inning with the third home run of the night for the Thunder, a two-run shot to left-center field.  Roller's eighth of the season capped the scoring for the evening, with Trenton leading, 8-1.
The middle game of the three-game series with the Thunder is scheduled at ARM & HAMMER Park for Saturday night at 7:05 p.m.  Richmond RHP Kyle Crick (1-0, 2.84) will make the start against Trenton RHP Zach Nuding (2-0, 2.43).  Pregame coverage will begin on Sports Radio 910 and SportsRadio910.com at 6:35 p.m.