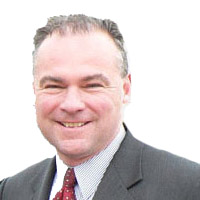 U.S. Sen. Tim Kaine today visited Fort Pickett, Virginia and Nottoway County's Pickett Park, which was recently selected as the site for a new Foreign Affairs Security Training Center (FASTC) to train U.S. diplomatic and government personnel assigned to high-threat posts around the world. After a multi-year exhaustive search, the Administration determined Fort Pickett is the best site to meet the State Department's operational requirements, and take advantage of synergies based on its close proximity to the State Department, its Foreign Service Institute, intelligence agencies, and military facilities in the Washington D.C. area.
Joining Kaine for the site visit today were Congressman Robert Hurt, Assistant Secretary of State for Diplomatic Security Gregory Starr, and local leaders, as well as other officials from the State Department and General Services Administration who provided additional information on the project. When asked about a construction timeline, officials expressed hope that ground would be broken in 15-18 months following an updated master plan and environmental impact study.
"I appreciate our State Department, General Services Administration and Virginia Guard colleagues for helping with this project," said Kaine. "Today was a great opportunity to get a feel for what the State Department's operation will be. Though we need to work through some budgetary issues, I was able to get a strong sense of what needs to be done and why Fort Pickett is the ideal location to provide the training that our embassy personnel and their families deserve."
Following today's tour, Congressman Hurt said, "I was impressed with the facilities we saw today at Fort Pickett.  The resources available at Fort Pickett will undoubtedly provide an ideal locale for the new Foreign Affairs Security Training Center, and I am pleased the Administration has decided to move forward with these plans, which will potentially lead to new jobs and new economic activity in Southside Virginia.  I appreciate Senator Kaine's and Congressman Forbes' leadership on this issue, and I look forward to continuing to work with them as the training center progresses."
Kaine, a member of the Senate Foreign Relations Committee, has long-supported the establishment of a Foreign Affairs Security Training Center at Fort Pickett to prepare diplomats who are assigned to high-threat posts. The need for improved training for State Department personnel was underscored by the 2012 tragedy in Benghazi and other threats over the past year to U.S. embassies around the world.