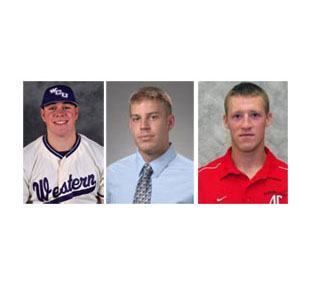 Taylor Sandeur and Drew Turocy were first-team All-Valley League selections, and Cody Hudson was named to the All-Valley second team, in selections announced on Saturday.
Sandefur was dominant on the mound for Waynesboro in 2010, going 7-0 in 13 appearances, including eight starts, with a 2.26 ERA. Sandefur, a 6-2, 245-pound freshman from Western Carolina, had 60 strikeouts in 59 and two-thirds innings pitched and allowed opposing hitters to bat just .215 on the season.
Turocy, a 6-3, 190-pound junior centerfielder from Akron, led the Generals in batting average at .370 with a home run and 31 RBIs. Turocy also had eight stolen bases in 10 attempts and seven outfield assists.
Hudson, a 5-11, 183-pound freshman leftfielder from Austin Peay, hit .303 with 24 RBI, a team-high 36 runs scored and 12 stolen bases in 14 attempts.
A notable omission from the All-Valley teams was Waynesboro third baseman Grant Fillipitch, who led the team with six home runs, 34 RBI and a .497 slugging percentage while hitting .302 on the season.
Named first-team All-Valley League at third base was Mike Garza from Woodstock (.388, 3 HR, 30 RBI), and named to the second-team at third base was Brant Jones (.356, 5 HR, 34 RBI).
 
 
Story by Chris Graham. Chris can be reached at [email protected].
Keywords: waynesboro virginia, waynesboro generals