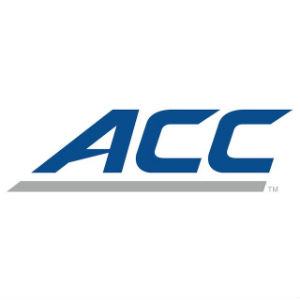 The V Foundation for Cancer Research, one of the nation's leading cancer research funding organizations, is excited to announce a new grassroots fundraising campaign in partnership with the Atlantic Coast Conference.
The V Throw Challenge launched on Sunday, March 1, with each ACC basketball coach attempting a V Throw and naming a "Starting Five," – five others to take their own V Throw Challenge.  Open to people of all ages and skill level, The V Foundation and ACC invite alumni, fans and other conferences to join the fight against cancer by participating in The V Throw Challenge and making a donation to The V Foundation.
"We are pleased to partner with The V Foundation, as its mission is extremely important and significantly impacts so many and means so much to the ACC, our member institutions and basketball programs," said ACC Commissioner John Swofford. "The 'V Throw' concept is a unique idea, and a fun and effective way to connect ACC Basketball to that mission."
Continuing throughout March, Challenge participants are asked to record their V Throw and post it to social media sites. Make or miss, participants are asked to make a donation to The V Foundation.  The V Foundation and ACC encourage creativity and welcome V Throws to be made on regulation or youth-sized baskets, as well as toy hoops or even office trash cans.  Donations to The V Throw Challenge can be made on the website: www.v.org.
"We're pretty sure to see some very interesting people step up in some very creative ways," said Susan Braun, CEO of The V Foundation. "We encourage everyone to take part. I'm going to use a Nerf ball and a very low rim."
"We continue to receive many more outstanding research proposals than we can afford to fund," Braun added. "Every dollar we raise will go to funding this excellent science – science that may just hold the keys to major advances against cancer.  We thank the ACC for creating The V Throw Challenge."
Founded in 1993 by ESPN and the late Jim Valvano, legendary North Carolina State University basketball coach, The V Foundation will award 100 percent of all direct cash donations to cancer research and related programs.  In addition to the ACC basketball coaches, ESPN personalities, other well-known athletes and "normal people doing extraordinary things" will participate in The V Throw Challenge.
When posting V Throw videos to various social media networks, The V Foundation and ACC ask participants to include the hashtags #VThrow and #ACCVThrow.  To find out more about The V Foundation, please visit www.jimmyv.org.  For more information about the ACC Basketball Tournament, please visit www.theACC.com.