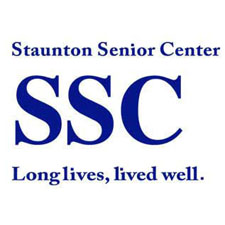 Staunton Senior Center met May 16 to discuss a variety of subjects. Center Director Lynn Harris reported the funds earned at the Country Store and the quilt raffle – a total of $287 will go toward supplementing a big trip in the summer and/or fall; let council members know about the upcoming CDSME leader training; and reported on membership data – the number of unduplicated clients is 22 percent higher in the first seven months of FY 2013 over 2012.
Chairman Michael Thompson told members about the upcoming elder abuse awareness event in June. Council members were asked to take part as volunteers to distribute purple ribbons to local businesses, doctors' offices, etc. for theJune 15 World Elder Abuse Awareness Day.
Harris also spoke briefly about the recent visit to MRSC and encouraged local council members to take part in the "I believe older adults …" project. Based on a video available on Youtube, SSC will create a video with staff and local council members who complete the sentence "I believe older adults …"
Eventually, this may be included in a Center video.
The next local council meeting will be June 19, 2013.
More online at www.StauntonSeniorCenter.org.