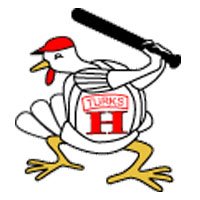 Blake Ream's complete game, three hit effort on the mound guided the Staunton Braves to a 6-1 win over the Harrisonburg Turks in a rain-delayed contest on Thursday night.
Ream struck out eight batters over the course of the evening and had a no-hitter broken up in the sixth inning by a Joey Roach single.  He held the Turks scoreless until the eighth inning when Brandon Gold's RBI double scored Daniel Nichols.
The Braves' offense jumped out early, scoring all six runs in the first four innings.  Gunnar McNeill started the scoring with an RBI double in the first that scored Joey Rodriguez.  Jimmy Redovian brought home JC Escarra on a groundout in the second before the Braves tallied two runs each in the third and fourth innings.
Third baseman Richie Riccardi went 3-4 at the plate and scored two of the Staunton runs.  Rodriguez went 2-5 and also had 2 runs scored.
Garrett Ford struggled as the Harrisonburg starter and took the loss to fall to 4-2.  He allowed eight hits in three and two thirds innings and was charged with all six runs.  Ream improved to 3-1 with the win.
This is the third loss in a row for Harrisonburg, which falls to 17-10 on the season.  Staunton has now won six games in a row and improves to 15-11.  The Turks return to Veterans Memorial Park on Friday night to host the Aldie Senators at 7:30 p.m.