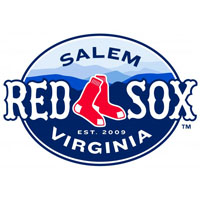 Cody Kukuk posted five scoreless on just five hits to help the Salem Red Sox beat the Wilmington Blue Rocks 5-1 at Frawley Stadium Sunday night. Kukuk struck out seven and walked only three in the victory. Miguel Almonte took the loss for the Rocks, surrendering four runs on nine hits in only three and two thirds.
As has been the theme of this whole series, the game was scoreless through three. To start the fourth, Aneury Tavarez laced a single off Almonte and stole second. Jordan Weems followed with a single to right field to advance Tavarez to third. A throwing error by right fielder Cody Stubbs allowed Tavarez to score and Weems to move to second. A batter later, Jose Vinicio singled in Weems to give the Sox a 2-0 lead. Vinicio would eventually score on a wild pitch. Later in the frame, after a Matty Johnson ground out and Mike Miller walk, Jantzen Witte doubled in Miller to give the Sox a 4-0 edge.
William Cuevas relieved Kukuk in the sixth and allowed a one out triple to Michael Antonio. He scored on a sacrifice fly a batter later by Stubbs to get the Rocks on the board.
Salem scratched across an insurance run in the ninth. Matty Johnson led off with a single. He moved to third on a wild pickoff attempt by Yender Caramo. Matty came home to score on a sacrifice fly by Jantzen Witte to give the Sox a 5-1 lead.
Terrance Gore would triple off Cuevas in the ninth, but that was as far as he would get. Cuevas picked up his first save of the year, going three innings, allowing just a run on two hits.
Through the first three games of the series, Salem starters have allowed zero earned runs in fifteen and two thirds innings. The Sox look for the series win tomorrow at 7:05. Justin Haley looks to continue the good pitching for Salem, with Luis Santos going for the Rocks.