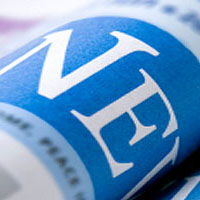 Natural gas is one of the safest, cleanest and most efficient forms of energy available today. Like any energy source, it must be used properly. In its natural state, natural gas is colorless and odorless. Columbia Gas of Virginia adds an odorant called "Mercaptan" to the natural gas system which gives it a distinctive smell that is similar to Rotten Eggs.
"The use of the "rotten eggs" odor is part of the natural gas industry's commitment to customer and public safety," said Phil Wilson, Vice President and GM Operations for Columbia Gas of Virginia. "Any time you encounter a strong "rotten eggs" smell, it is critical that you leave the immediate area and from a safe location call 911 and Columbia Gas of Virginia at 1.800.544-5606. Our technicians will respond immediately and evaluate the situation and working with the emergency responders make it safe."
How to Recognize a Possible Natural Gas Leak
The senses of sight, hearing, and smell are critical in helping recognize a possible natural gas leak. If you identify a possible natural gas leak, you need to take immediate action. Columbia Gas of Virginia offers the following safety tips in identifying a potential natural gas leak and what you should do if you smell natural gas "rotten eggs":
Look – Bubbling water or dirt blowing from the ground near a natural gas line can indicate a release of natural gas from the underground pipeline.
Listen – If you hear a hissing, blowing, or roaring sound that could indicate a potential hazard.
Smell – Because natural gas is odorless and colorless, Columbia Gas adds "Mercaptan" to the natural gas system, which smells like "rotten eggs." Mercaptan is used as an early safety warning detection of a potential hazard.
 What to Do If You Smell Natural Gas (Similar to Rotten Eggs)
Immediately evacuate the area.
From a safe location, call 911 and Columbia Gas of Virginia at 1-800-544-5606.
Warn others to stay away from the area.
Leave windows and doors in their current position.
Avoid open flames or anything that could spark ignition – including cell phones, lights, garage doors, door bells, or other power equipment.
Do not attempt to operate a pipeline valve or try to correct the leak yourself.
When emergency personnel arrive explain the situation to them.
At no charge, Columbia Gas of Virginia technicians will immediately respond, evaluate the odor, make the natural gas facilities safe and make appropriate repairs.
For more information about natural gas safety, visit www.ColumbiaGasVa.com.
About Columbia Gas of Virginia
Columbia Gas of Virginia delivers safe, reliable and clean natural gas to over 252,000 customers in portions of Northern Virginia, Hampton Roads, suburban Richmond, Central Virginia, and the Shenandoah Valley, the Lynchburg region and parts of Western Virginia. With headquarters in Chesterfield County, the company is one of the 7 energy distribution companies of NiSource Inc. (NYSE: NI) serving 3.8 million natural gas and electric customers. Always call 811 before you dig and Dig with CARE. Learn more at www.ColumbiaGasVa.com.