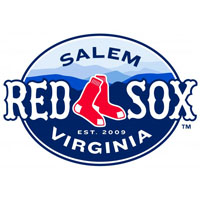 The Salem Red Sox tasted defeat for the first time since August 6 on Tuesday night, as Winston used one big inning to snap Salem's eight-game winning streak. The Dash scored all six of their runs in the second, while Salem's pair of two-run frames failed to be enough in the 6-4 final. The Dash moved to within two games of the Red Sox in the chase for the final playoff spot in the Carolina League Southern Division.
Salem struck first with two runs in the top of the second to swipe an early lead. Three straight singles loaded the bases with nobody out, and RBI groundouts from Kendrick Perkins and Jake Romanski give the Sox the early edge.
But Winston countered quickly, with five straight Dash hitters reaching safely to begin the second inning. By the end of the damaging frame, 10 Dash had been to the plate, with six of them rounding the bases. The conquest began with Trey Michalczewski and Jake Peter delivering back-to-back doubles, and later, Courtney Hawkins and Keon Barnum each drove in a pair to increase the Winston lead.
It remained 6-2 into the sixth, when Mario Martinez boomed a two-run homer into the outfield bar beyond the left-center field fence, slicing the four-run gap in half. Salem threatened in the eighth with men at first and third with one out, but a double play ended the opportunity. In the ninth, Salem loaded the bases with one gone, but David Putman recorded a strike out and induced a line-out to end the game.
Terance Marin earned the win, allowing four runs on eight hits in six innings, while Joe Gunkel suffered the loss, blemished by the six-run second in his two-inning outing. From the Salem bullpen, Taylor Grover tossed four remarkable scoreless innings, striking out seven, and Madison Younginer tossed two shutout frames himself.
Jantzen Witte continued his hot hitting with three hits including two doubles, while Manuel Margot went 2-for-4 with a pair of singles and is now 8-for-17 (.471) in four games with the Salem Sox.
Matty Johnson reached base twice via a walk and a hit-by-pitch to extend his consecutive games on base streak to 20, however he finished 0-for-3 to end his 17-game hitting streak.
The Sox and Dash will reunite on Wednesday night at 7 PM, with Pat Light opposing Brandon Brennan on the hill.