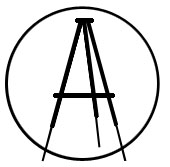 The Shenandoah Valley Art Center, during the month of September, is exhibiting works of art by Virginia artist, Delmon Hall IV.
The exhibit features works from two series of paintings:  "Cosmic Fiber" and "Uplift." The Cosmic Fiber paintings are a celebration of the spiritual force that gives life to all. Hall describes it this way… "This life force I represent in my paintings is called by many names: the Holy Ghost, the Music of the Spheres, Divine Spirit, the Force, Logos, the Word of God and countless others. Whatever name you wish to use, it manifests itself in this plane of existence in two forms – Spiritual Light and Spiritual Sound.  Most of the world is familiar with the idea of Spiritual Light. Spiritual Sound is less well known.
It is however as important, if not more, to one's quest for Spiritual Freedom. This Spiritual Light and Sound animates everything, everywhere, always. It weaves together all things, all places, and all time. It is an expression of God's Love for us – without which we would not exist." An opening reception will be held Saturday, September 6, 6:00 – 8:00 p.m. and the public is encouraged to come and meet the artist as he speaks briefly about his work.
In the Hallway Gallery, SatRealism – an art movement co-founded by Del Hall and Bart Lanman will be showcased. There is not a shared aesthetic but the artists are tied together by a belief in the seemingly simple yet profound truth… if your heart is open – abundance will follow.  SatRealists strive to connect with and portray something greater – something uplifting. "Sat" means "true" in Sanskrit and this Sat Realism means the True Realism… art inspired by communications of the heart.  Whether it's a painting by Del or Johnathan Blake, a scribble portrait by Bart Lanman, photographs by Emily Allred or Paul Nelson, or wood turnings by Jason Levinson the variable is the same.  The artists love what they do and know it is when their hearts are open that they can hear those gentle whisperings – the guidance, that if followed, makes life a joy to live. The Members Gallery will present works of art by SVAC members with a "Blue" theme represented in a variety of media and creative expressions.
Come enjoy the gathering of folks seeking creative inspiration, camaraderie, and sharing of techniques through art activities and classes. Please join us for a free open studio opportunity on third Thursdays, 11:00 a.m.-1:00 p.m. with the Art Trading Card Group.  Watercolor classes, taught by Pat Garnett, are designed to meet the needs of the student.  Come once, or come every week! Bring paint, brushes, paper, and creativity each Tuesday, 1:00 – 3:00 p.m. with an $11 fee per selected session. Zen Tangle, a form of meditative drawing, will be taught by Pat Garnett on third Thursdays, 11:00 – 12:30 p.m. ($11) Also offered for young artists is the ever popular Saturday Art for Kids, presenting a creative art experience for children from 11 – 1:00pm.   Contact the art center for specific information, cost, and pre-registration for each SAK class. Open studio opportunities in the Virginia Ross Education Studio are available to printmakers and ceramic artists.  Apply on line at www.SVACart.com.
Save the date!  September 20 is the annual SVAC Fund Raiser! You May purchase tickets at SVAC or online for $50 for an evening of wine, heavy d'oeuvres, music and fun!
The Fall Foliage Festival Art Show application for the show to be held in Waynesboro on October 11 and 12 is online and available to professional artists. Recently the show was voted one of the top three art events in Virginia by "Virginia Living" readers.
The art center is a retail alliance partner with the Artisan Center of Virginia. In the SVAC Gift Shop you can find the perfect creative gift in fiber, jewelry, wood, glass, pottery, and more by juried artisans from Virginia and SVAC member artists
The Shenandoah Valley Art Center is located in downtown Waynesboro at 122 S. Wayne Avenue.  Galleries are open to the public 10 a.m. to 4 p.m. Tuesday through Saturday.  For more information, call (540) 949-7662 or visit www.svacart.com.