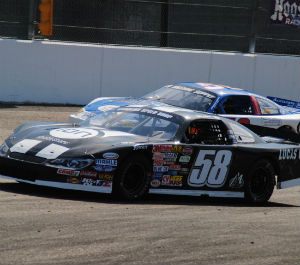 After a successful inaugural Racing for Wishes 150 at Shenandoah Speedway in April, promoter Jeff Thielscher has announced that the event will return on June 4, 2016.  The 2015 editions featured LMSC-style Late Models racing for $6,000 to win in a race that benefited the Greater Virginia Make-A-Wish.
Michael Hardin of Delaware won the inaugural event in a green-white-checkered finish, storming past Keith Carpenter coming to the restart to take the lucrative win.  He described the victory as one of the biggest and most profitable of his career.
Besides 19 LMSC cars in action, the inaugural Racing For Wishes 150 also attracted one of the largest crowds in Shenandoah Speedway history.  With a move from a late April Friday night to an early June Saturday night, both car count and fan count should increase.
Most notably the event raised $8,000 (one wish) for the Greater Virginia Make-A-Wish.  Officials hope to increase fundraising to two wishes in the second running.
"We are very excited to have the second annual Racing for Wishes confirmed," Thielscher said.  "It was my dream to bring a big time race to the Shenandoah valley and help Make-A-Wish as we have done on the West Coast for many years.  We accomplished a lot and look forward to making the second annual even bigger!"
The inaugural Racing for Wishes was presented by great sponsors such as GoLiveStream.TV, Autodealz, Off Road Trackchair, See-Mor Customs, Realfast.tv, and Blakesley Sports Media.  More information is coming soon at www.racingforwishes.com