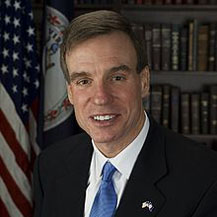 U.S. Senator Mark R. Warner's (D-VA) proposal to have private-sector technology experts assess and recommend fixes to the Department of Veterans Affairs' broken scheduling system — at no cost to the taxpayers — has been included in the bipartisan House/Senate compromise legislation. Both chambers are expected to approve the compromise this week.
"I'm very, very pleased that our proposal to address the V-A's broken scheduling system has been included in this compromise legislation," said Senator Warner. "I look forward to working with the task force to ensure the V-A provides better care to those who have sacrificed so much and deserve so much better from the V-A.  By calling on our best minds across the private sector to help in this national priority, we can begin implementing commonsense solutions to fix these problems."
Senator Warner's provision requires the Secretary of the V-A to enlist a task force of technology companies to review "the needs of the Department with respect to the scheduling system and scheduling software," and to report within 45 days specific actions that would improve scheduling and software.  The Secretary is instructed to implement these recommendations within one year of receiving the pro bono assessment.
Senator Warner began working on this pro-bono solution following revelations earlier this year that veterans were experiencing unacceptable delays in treatment at V-A medical centers. In June, he sent a letter to the President to urge the V-A to enlist the expertise of the private sector to provide an assessment of and recommendations for improvements to the information management problems associated with the scheduling system. Senator Warner alsomet with incoming V-A Secretary Robert McDonald last week and urged him to embrace this pro-bono proposal. His office has met with Administration officials and companies from the Northern Virginia Technology Council (NVTC) to discuss the details of the pro bono support.
Senator Warner and NVTC already have established a template for this type of private-sector assistance. When it was revealed in 2011 that Arlington National Cemetery was misplacing and misidentifying the remains of our warfighters, Senator Warner assembled a group of companies through NVTC to provide the Army with pro bono management assistance. The team went into the cemetery offices and produced a comprehensive blueprint to correct and modernize the Cemetery's I-T and business practices.