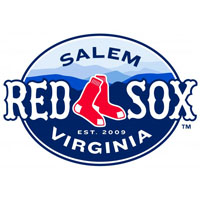 The red hot Salem Red Sox needed extras to earn their sixth consecutive victory on Friday night, plating the winning run on a wild pitch to prevail 3-2 over Myrtle Beach in the series opener at LewisGale Field. Carlos Asauje bolted home from third as Abel De Los Santos' delivery bounced past catcher David Lyon, initiating a raucous celebration of excited players and 5,683 fired up fans. The win, combined with losses by Carolina and Winston-Salem elsewhere, move the Red Sox a game and a half ahead of the Mudcats and two games ahead of the Dash in pursuit of the final playoff spot in the Southern Division.
A pitchers' duel throughout–11 innings only took two hours and 48 minutes–Salem broke the scoreless draw when Gragnani launched a two-run homer over the left-field fence in the last of third. The line drive dinger was Gragnani's first round-tripper of the season, and the Sox led 2-0 after three with Cody Kukuk sizzling through his opening innings.
But in the top of the fourth, Kukuk fizzled, walking four Pelicans and permitting two runs as Myrtle tied it up. Chris Garia and Preston Beck each walked and scored, but Kukuk did strand the bases loaded to preserve the tie.
Kukuk and Myrtle Beach starter Victory Payano each went five innings, allowing two runs apiece, while the bullpens kept the opposition at bay the rest of the way. Taylor Grover and Nate Reed each dealt three scoreless innings for the Red Sox, with Reed earning the win. Cody Kendall tossed two scoreless, while Sam Stafford delivered an inning and a third without a run for the Pelicans. De Los Santos escaped a precarious situation unscathed in the 10th, but was scratched in the 11th for his first loss of the year.
In the last of the 10th, Dreily Guerrero reached on an error with two outs, stole second, and remained there when Jose Vinicio walked. Matty Johnson, 0-for-3 at that point, singled to center to extend his hitting streak to 15 games, but Guerrero was gunned down at the plate by a perfect Lewis Brinson strike from shallow center, prolonging the game.
It wouldn't last much longer, though, with Reed slicing through the Pelicans 1-2-3 in the top of the 11th and Asuaje singling to begin the bottom of the frame. Gragnani singled to deep short, with an errant throw to first allowing both runners to move into scoring position. Jantzen Witte grounded out to the mound, but Mario Martinez watched the wild pitch bounce away, permitting Asuaje's homeward sprint for the win.
It's Salem first six game winning streak of 2014, and the victory also snapped Myrtle Beach's nine-game road winning streak. The Sox and Pelicans reunite on Saturday evening at 6:05, with Jacob Dahlstrand scheduled to oppose Ryan Bores in the second game of the series.