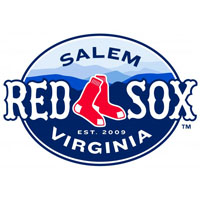 The Salem Red Sox and Winston-Salem Dash split a doubleheader at LewisGale Field Wednesday night. Luis Diaz pitched six quality innings in the Red Sox 3-2 victory in game one. In game two, Jefferson Olacio and Kyle Hansen combined for six innings of one run ball in a 4-1 Dash win.
Luis Diaz threw his third straight quality start, surrendering six hits and two runs in six plus innings of work in game one. He walked one and struck out seven to get his fifth win. Dayan Diaz came in with a man on in the seventh to pick up his third save of the season. Tony Bucciferro was the tough luck loser, allowing three runs, two of which were earned, in six innings.
The Sox scored twice in the first. Jonathan Roof reached on an infield single, and Reed Gragnani got on after a error on second baseman Joey DiMichele. Roof scored an earned run on Mario Martinez's double and Gragnani scored an unearned run on a groundout by Kevin Heller. The Sox third run came when Anuery Tavarez doubled home Martinez in the sixth, who had reached on a double of his own.
The Dash's first run came in the fifth. Keon Barnum scored on a Nick Basto double. It could've been two runs for the Dash in the fifth if not for a base running mistake by DiMichele. DiMichele scored on Barnum's double, but was ruled out for not touching third base. The Dash's second run came on a seventh inning homer by Jason Coats off of Luiz Diaz.
In game two, Justin Haley threw another quality start in a losing effort. Haley allowed three runs and eight hits in six innings. Jefferson Olacio started for the Dash and threw three innings, allowing one unearned run. Kyle Hansen picked up the win in relief, allowing just two hits in three innings of his own. Brandon Hardin recorded a save for the second straight night.
The Dash started early with runs in the second on an RBI single by Grant Buckner and sacrifice fly Michael Johnson. Tim Anderson scored the third and fourth runs for the Dash. He scored in the third on an RBI double by Courtney Hawkins and in the seventh on a RBI triple by Jacob May. The Sox lone run came in the third. Dreily Gurrero reached on an error and scored on Jonathan Roof's double.
The Sox and Dash finish the four game set at LewisGale Field Thursday night. Pat Light will make the start for the Sox. Francellis Montas take the mound for the Dash. First pitch is at 7:05.