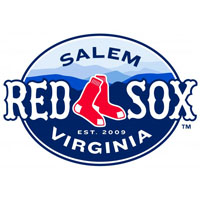 Despite only posting seven hits, the Salem Red Sox took advantage of 13 free base runners and cruised to an 8-1 win over the Potomac Nationals on Friday night at LewisGale Field.
In addition to giving up seven hits, Potomac issued eight walks, hit a batter, allowed a batter to reach on a wild pitch and committed three errors defensively to give Salem more than enough chances to score.
The Sox got to work quickly in the first inning, plating two runs without a hit. Mauricio Dubon led off with a walk while Wendell Rijo reached on an error. After a sacrifice bunt, Kevin Heller brought in Dubon with a sacrifice fly. Mike Meyers then hit a smash to third that David Masters couldn't handle, allowing Rijo to scamper home on the second error of the frame.
An inning later, Salem added to its lead with a two-out rally. Deiner Lopez started the spurt with a double to right-center before scoring a batter later on a single from Dubon. Two walks loaded the bases for Heller, who was hit by a pitch to grow Salem's advantage to 4-0.
Meanwhile, Salem starter Daniel McGrath was mowing down the Nationals. The southpaw didn't allow a hit until the third inning and only gave up one run on a sacrifice fly from Masters in the fifth inning. In total, McGrath (3-6) yielded just a run on two hits in six innings while punching out four. It was his third consecutive quality start and second straight win.
Salem added some insurance late against the Nationals bullpen. In the sixth inning, Dubon led off with a double, moved to third on a sacrifice bunt and scored on a wild pitch from Jake Walsh.
Leading 5-1, the Sox put together another two-out rally in the seventh inning. Lopez reached on a dropped third strike, which seemed harmless with two outs already recorded. However, Dubon smashed an RBI double to right-center, Rijo roped an RBI triple off the left field wall and Allday drove an RBI single to left-center, pushing Salem's lead to 8-1.
The trio of Dubon, Rijo and Allday at the top of the order did a majority of the damage for Salem. Dubon had a career day going 3-for-4 with two doubles, four runs scored and two RBI. Rijo was 1-for-3 with a triple, two runs scored and an RBI while Allday was 2-for-3 with a double and an RBI.
Matthew Spann (2-7) took the loss for the Nationals, allowing four runs, two earned, on three hits and three walks in four innings.
Thanks to back-to-back wins over Potomac, the Red Sox improved to 60-70 on the year, 22-38 in the half. The Nationals fell to 60-70, 27-33 in the half.
The series continues on Saturday night at 6:05 p.m. on Military Appreciation Night. The first 500 fans will receive a military trading card set and the Red Sox will be auctioning off the military camouflage jerseys that have been worn by the team this season. Ty Buttrey (8-8, 3.99) will get the ball for Salem against Potomac's Jeff Howell (0-1, 3.00). Fans unable to attend can listen to the game on 1240 AM ESPN Roanoke, online at salemsox.com or via the TuneIn Radio app.