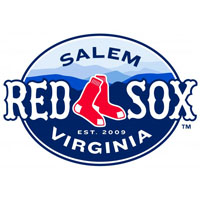 Pat Light turned around the fortunes of his second half with five excellent innings in the Salem Red Sox's 4-2 victory over the Wilmington Blue Rocks at LewisGale Field Sunday afternoon. Light allowed just a lone unearned run in five innings of work, on just five hits. Christian Binford was the bought luck loser, surrendering two runs and five hits in six innings.
The game was scoreless until the bottom of the fourth. Matty Johnson led off with a single, and was bunted to second by Mike Miller. with two outs, Jantzen Witte knocked Matty home with a single to give the Sox a 1-0 lead.
Wilmington immediately answered in the top of the fifth. Daniel Rockett singled and stole second to lead off the frame against Light. After retiring the next two, Light walked Jack Lopez, who eventually stole second. With second and third and two outs, Light got the ground ball to end the inning, but it was bobbled by Jantzen Witte at third to allow Kenny Diekroeger to reach and score Rockett from third to tie the score.
But Salem would take the lead for good in the bottom of the fifth. Aneury Tavarez led off with a double off Binford. He scored on an RBI single by Leonel Escobar, Escobar's first RBI of the season.
Salem would add insurance in the seventh and eight. Tavarez led off the seventh with a single. He reached third on a throwing error by new pitcher Yender Caramo on a pickoff attempt, and scored on a base hit from Kevin Heller. In the eight, Mike Miller doubled, reached third on a ground out, and scored on a wild pitch.
Wilmington's best chance came in a 3-1 game in the eight. The Blue Rocks got two on against Madison Younginer and then Rockett loaded the bases with a walk against Dayan Diaz. But Diaz retired Mark Donato and Terrence Gore to end the threat. Wilmington picked up a run in the ninth off Diaz but Dayan picked up his fifth save.
The win gives Salem another winning home stand. The Sox will try to sweep the Blue Rocks tomorrow at 7:05. Miguel Almonte goes for the Blue Rocks with Corey Littrell trying for the sweep for the Sox.