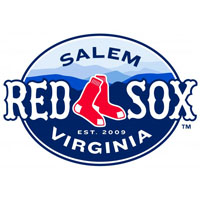 Off the bat, it looked like the teenager had a two-run triple. Manuel Margot, the 19-year-old in his third Carolina League game, had other ideas. The missile smoked to the right-center field gap and was fired back to the shortstop in shallow center, who carelessly turned his head away from the play as Margot rounded third. In a blur, he bolted home and accelerated into the plate with a head-first dive ahead of the throw. It was scored as a three-run, inside-the-park homer, and it broke open Salem's 9-1 rout of Myrtle Beach that completed the Sox' three-game sweep over the Pelicans.
It was the culmination of a two-game, two-home run, seven-RBI stretch for Margot, who had joined the Salem Sox in the midst of a magical winning streak that reached eight consecutive games on Sunday evening. Jantzen Witte broke a 1-1 tie with a solo blast in the fourth, his second dinger in as many days, while Jake Romanski also launched a mammoth two-run homer late in the contest to increase the lead to eight.
In a spot starting role, Kyle Kraus shined atop the mound, dealing six strong innings with just one run allowed. He scatted six hits, with a solo homer surrendered to Kellin Deglan being the only non-single he permitted, and he stuck out four to improve his record to 6-3. In relief, Jonathan Aro tossed three hitless innings, setting down nine of the 10 batters he faced to earn his first Carolina League save.
But the story was the scalding Sox offense, which followed up its 17-run, 21-hit performance from Saturday night with nine runs on 13 hits on Sunday. Matty Johnson singled in the seventh to extend his hitting streak to 17 games in a row, while Jose Vinicio went 2-for-4 with two RBI from the bottom of the order.
Margot went 3-for-4 with three RBI, giving him six hits in 13 at-bats in three games, with two home runs and seven RBI. Since going 0-for-4 on Friday night, he's 6-for-9 with seven RBI in his last two games.
Salem has outscored its opponents 54-25 during the eight-game winning streak, inching to within one game of the first-place Pelicans in the second-half Southern Division standings.
Following an off-day on Monday, the Salem Sox will visit Winston-Salem for a pivotal three-game series against the Dash, who trail the Sox by three games in the Southern Division wild card chase. The Red Sox, with 16 games remaining over a 14-day span starting on Tuesday, will send Joe Gunkel to the hill against Terance Marin in the series opener, a 7 PM start at BB&T Ballpark.