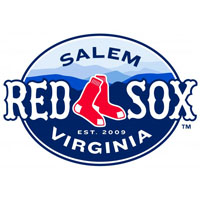 The Salem Red Sox put the tying run on first in the ninth inning, but Jesse Beal got two groundouts for the save and persevered the Keys 4-2 victory Friday night. Salem put up tin soldiers in the eight and ninth, but fell by two for a ten loss in fourteen games with Frederick this season.
The game was initially delayed 58 minutes by rain, but both starters pitched as scheduled. Parker Bridwell was outstanding for Frederick. Bridwell pitched into the eight inning, and did not allow a run while he was on the mound. His final line finished at seven innings, four hits, a run, with three walks and six strikeouts. Joe Gunkel was good as well in defeat, throwing six and two thirds, surrendering seven hits and three runs.
Frederick scratched across the first run in the fourth. Michael Brugess reached on a fielders choice, followed by a Jason Esposito single and walk to Brenden Webb. With the bases loaded, Joel Hutter drove in a run on a fielders choice when the Sox double play attempt was a step late. Frederick scored a second run in the fifth, on Tucker Nathans sacrifice fly.
The game held 2-0 until the seventh. Wynston Sawyer led off with a single off Gunkel, and was sacrificed to second by Jerome Pena. He scored on a single by Adrian Marin to give the Keys a 3-0 edge. In the eight, Burgess doubled off Matty Ott, and scored on a sacrifice fly by Webb.
But the Sox began to chip away in the last of the eight. Bridwell walked Matty Johnson and Mike Miller singled. Jesse Beal came on in relief, and got Jantzen Witte to fly out to right. A batter later, Carson Blair grounded out to short, enough to score Johnson from third to put the Sox on the board.
Down 4-1 entering the ninth, Mario Martinez led off with a single. Then Glynn Davis made an incredible diving catch on a sure hit from Matt Gedman for the first out. Nick Moore would then pick up his first Carolina League hit, to put men on first and second with one out. Johnson singled home Martinez to make it a 4-2 game. But Beal got Mike Miller and Witte to groundout to pick up his third save.
Salem continues its home stand with the Potomac Nationals tomorrow night. Simon Mercedes returns from the DL and get the ball for the Sox, with Matt Spann on the bump for Potomac. First pitch is scheduled for 6:05.