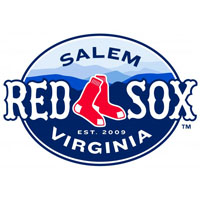 For the third-straight game, a late-game comeback fell short for the Salem Red Sox, as the Winston-Salem Dash won 9-6 Saturday night at LewisGale Field.
The game was played before a sold-out crowd of 6,415, the first sell-out of the season, and the first April sell-out at LewisGale Field since 2009. The crowd was the 13th-largest in the 21-year history of Salem Memorial Ballpark.
It was a familiar feeling for the Red Sox (10-7), as the Dash scored a run in the first inning against starting pitcher Matt Kent. The damage could've been worse, as the Dash left two runners on base and had a baserunner caught stealing.
The Red Sox evened the score at 1-1 in the bottom of the first against Winston-Salem starter Matt Cooper, when Mauricio Dubon was chased home on a Nick Longhi single.
The Dash (7-10) struck back in the top of the second inning with a run against Kent (1-1) when Hunter Jones escorted Louie Lechich home with an RBI single to take a 2-1 lead.
The back and forth battle continued in the bottom of the third, when Andrew Benintendi doubled and scored on a Longhi single off Cooper (1-1) to tie the game at two.
Winston-Salem busted the gates open in the top of the sixth inning, sending 11 batters to the plate and scoring six runs, chasing Kent from the game in the process. Kent finished with 5+ innings pitched, and allowed five runs on 11 hits, walking one and striking out four.
Adam Lau entered from the bullpen and allowed three inherited runners to score while yielding three runs of his own in the sixth, but pitched a scoreless seventh.
The Red Sox touched up Manny Martinez and the Winston-Salem bullpen in the seventh, scoring three runs. Ben Moore walloped his second home run of the season, and the Sox scored two unearned runs after a Marcus Davis error, including one on a Longhi double. Longhi finished 3-for-5, with a double and three RBIs.
In the eighth, the Dash scored a run against Jake Drehoff on a pair of hits to extend the lead to 9-5, where it would stay until the bottom of the ninth.
With two outs, Benintendi singled up the middle to score Yoan Moncada, but the rally started too late as the Sox fell, 9-6.
Salem completes the series with Winston-Salem on Sunday at LewisGale Field. First pitch is scheduled for 4:05 pm. The Red Sox will send Travis Lakins (1-1, 3.29) to the mound against Thad Lowry (0-1, 3.77) of the Dash. For tickets and more information, call (540) 389-3333 or slide to www.salemsox.com/tickets.