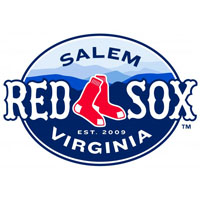 Lynchburg scored first and last, but Salem scored the most in a 4-2 victory 
on Wednesday
 night to begin a week-long homeland at LewisGale Field. Corey Littrell earned the win with five strong innings, while
Aneury Tavarez
launched a two-run homer and
David Chester
crushed a solo shot to help the Sox win for the
fifth
time in the last six games.
Littrell permitted a run before an out was recorded, but rebounded to earn his first
carolina league
victory. After surrendering a leadoff triple to
Jose Peraza
and an
RBI
single to Kyle Wren, Littrell surrendered only two more hits in the remainder of his five-inning stint. With the Sox still trailing 1-0, Littrell escaped a bases loaded predicament unscathed in the top of the third, and the momentum pendulum swung Salem's way from there.
In the last of the third,
Matty Johnson
reached with a one-out single and scored on Ryan Dent's double off the top of the 20-foot-tall wall in deep left-center. With the score tied in the fourth, Tavarez pulverized a
Jarrett Miller
fastball for a titanic two-run blast, his second of the year, to give the Sox a 3-1 lead. One frame later, with two outs and the bases empty, Chester collected his second round-tripper, walloping a deep drive over the left-field fence to make it 4-1.
In relief of Littrell,
Austin Maddox
dealt two scoreless innings, while
Madison Younginer
delivered a scoreless eighth. In the ninth,
Dayan Diaz
served up a solo homer to Tyler Tewell, but earned his first
carolina league
save by closing it out.
Reed Gragnani
led the
Red Sox
with two hits and a walk, while
Kevin Heller
went 0-for-4, snapping his 15-game reaching base streak.
Salem and Lynchburg reunite 
on Thursday
 night, with the first pitch scheduled for 
7:05
 at LewisGale Field.