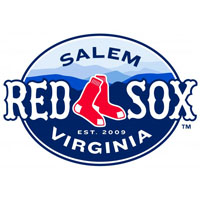 Jason Coats launched a pair of homers and Terrance Marin fanned 10 Red Sox in seven superb innings, leading Winston-Salem to a 5-1 victory, its second straight triumph over Salem to begin the second half.
Coats belted a two-run shot in the first and followed with a solo blast in the sixth, providing enough offense with Marin sizzling on the hill. The righty, who had been released by the White Sox organization earlier this season, re-signed and rejoined Winston-Salem on Friday night, mixing his pitches brilliantly over a dominant performance, in which he allowed just five hits and one run.
Salem starter Corey Littrell surrendered the two-run dinger in the first, but progressed into the sixth inning before Coats stung him for the second time. In five and two-thirds, Littrell allowed just three runs on five hits, striking out six and walking a pair.
But the Sox offense mustered only one tally on the night, coming when Reed Gragnani smacked an RBI single in the top of the third. Gragnani registered two of Salem's six hits, producing a single and a double for his 22nd multi-hit performance of the season.
Winston added to its lead with two insurance runs in the top of the eighth. First, Courtney Hawkins tripled and scurried home from third on a wild pitch, while Grant Buckner bashed an RBI double, driving in Keon Barnum to increase the Dash advantage to four.
Coats picked up his 11th and 12th homers of the season, while Marin earned his first Carolina League win of 2014.
The Sox will look to avoid a sweep on Saturday night, as recently-promoted Joe Gunkel makes his Carolina League debut. Former Boston Red Sox prospect Frank Montas, now with the White Sox organization, opposes Salem on the hill for Winston. First pitch is scheduled for 7 PM.