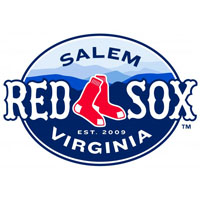 The Salem Red Sox announced their promotions and specialty nights for the 2016 season. Fans will see the return of many popular nights, including Star Wars and Turn Back the Clock, as well as many new entertainment options at LewisGale Field.
Returning from last year are the season-long promotions focused heavily on the weekend. Thirty-two of the team's 70 home games fall on a Friday, Saturday or Sunday.
The weekend gets started early with the return of beverage specials presented by Bud Light at every Thursday night home game. Fireworks will continue to be a part of every Freedom Friday game, sponsored by Freedom First Credit Union. Saturdays will once again feature Nine Innings of Winning courtesy of the Roanoke Times. As always, kids will have the opportunity to run the bases after every Sunday home game as part of Sunday FUNday.
In addition to the daily specials, player poster giveaways for the first 500 fans on Friday, Saturday, and Sunday home games returns, culminating with the represented player signing autographs after the Sunday game.
The season starts with a bang on Opening Night at LewisGale Field on Thursday, April 7. The first 1,000 fans will receive a 2016 magnet schedule and all fans are encouraged to stay after the game for the first of the season's 13 fireworks shows.
The opening homestand concludes on Wednesday, April 13 with a special 11:05 a.m. Baseball in Education day presented by Blue Eagle Credit Union. Mad Science will be on hand for a pre-game science show from 10 a.m. until first pitch.
Thursday, April 21 will be 90's "Double Dare" night honoring the popular Nickelodeon game show. The night will have a 90's theme, including a 90's dress attire contest.
The first of two Star Wars nights takes place on Saturday, April 23. One of the more popular nights of the season returns with themed music and entertainment, plus appearances by Star Wars characters.
Pink in the Park weekend returns for a three-game series from Friday, May 13 through Sunday, May 15. The highlight of the weekend will be on Saturday, May 14 when Red Sox players will be wearing special pink jerseys that will be auctioned to benefit Susan G. Komen of the Virginia Blue Ridge.
The first-ever Salem Red Sox Social Media night will take place on Friday, May 20. Interactive activities will highlight the evening with a multitude of prizes to be given away through various social media channels.
Superhero night, presented by Member One Federal Credit Union, returns on Saturday, May 21. Fans are encouraged to dress up as their favorite superhero for this sought-after specialty night.
The Mayberry Deputy makes his annual stop at LewisGale Field on Friday, June 3. Fans will have a chance to snag a picture as well as meet one of the poplar characters from the "Andy Griffith Show."
A new night to this year's schedule is Promopalooza on Tuesday, June 7. Serving as the only home game in an eight-day stretch, the Red Sox will combine a week's worth of promotions into one night. Nine Innings of Winning, kids run the bases, and a player poster giveaway are just some of the highlights for this action-packed night.
The Red Sox return home after the All-Star break for Minion night on Friday, June 24. The first 500 kids in attendance will receive a mask of the entertaining "Despicable Me" munchkins in addition to themed contests throughout the game.
Mullets for Men's Health night returns on Saturday, June 25. The Red Sox will be raising money for the Movember Foundation throughout the night and the first 500 fans will receive a free mullet. In addition, four-time US Heavyweight Champion and WWE Hall of Fame wrestler Ricky "The Dragon" Steamboat will be on hand to throw out the first pitch, make appearances during the game, and sign autographs.
Another fan favorite, Pirate and Princess night, comes back to LewisGale Field on Friday, July 15. The first 1,000 guys and girls through the gates will receive either a tiara or an eye patch. The Disney princesses will also be back to ensure an enchanted evening.
The next night, Saturday, July 16, will be a time to break out the Hawaiian shirts and flip-flops for Beach night. The first 500 fans will receive free leis with entertainment provided by the Key West Band performing an hour before first pitch.
Woods Service Center sponsors NASCAR night on Friday, July 29 to kick off a unique weekend at Salem Memorial Ballpark.Saturday, July 30 will be Tribute to Adam and Alison night. The Red Sox will honor WDBJ7's Adam Ward and Alison Parker, who were lost in August of 2015, with a special night dedicated to their lives. More details will be available about this night at a later date.
The weekend then ends with a special 7:05 p.m. first pitch on Sunday, July 31. ASA Softball will host its opening ceremonies prior to the Sunday contest and fans can stick around for a rare Sunday postgame fireworks show.
August gets started with Girl Scout night on Friday, August 5. Local troops will be honored prior to the game and have the option to spend the night in the outfield of LewisGale Field. The next night, Saturday, August 6, will be Boy Scout night with pregame honors and a sleepover. The second Star Wars night of the year coincides with the Saturday contest.
Friday, August 12 will be College Rivalry night with a battle for your school's supremacy taking place throughout the night. Themed activities pitting rival schools against one another will accent the evening.
Fresh off a successful return of the Salem Avalanche last season, the Salem Buccaneers will return for one night only onSaturday, August 13. The Red Sox will don special Buccaneers jerseys, honoring the team's nickname from 1987-94. The jerseys will be auctioned off to benefit local charities.
The final home weekend of the regular season kick off on Friday, August 26 with Country night and is once again highlighted by Military Appreciation night on Saturday, August 27. A trading card set honoring local military heroes will be issued to fans while the Red Sox will be wearing special military-themed jerseys that will be auctioned off after the game.
The home schedule concludes on Thursday, September 1 with Fan Appreciation day celebrating the best fans in Minor League Baseball.
The Red Sox once again will host a once-a-month Bark in the Park game where fans are encouraged to bring their furry friends to the park with them. The first dog-friendly event is scheduled for April 24 and followed by May 22, June 3, July 13, and August 17.
The Red Sox Silver Slugger program dates have also been announced, featuring 10 dates: April 7, April 24, May 14, May 21,June 3, June 25, July 17, July 30, August 13, and September 1.
Chick-Fil-A will once again sponsor Friends and Family night at select games. Fans can purchase a package prior to game day that includes four tickets, two Chick-Fil-A adult meals, two Chick-Fil-A kids meals, two hats, and two pennants, all for only $39. The first night is scheduled for April 8, followed by May 20, June 24, July 29, and August 26.
Single game tickets for the 2016 Red Sox season start at just $8 for general admission seats. Box seats will be on sale for $10 while premium "Strike Zone" seats will be available for $12. A $2 surcharge is added for tickets bought on the day of game. A full breakdown of ticket prices is available at www.salemsox.com/tickets.
Tickets will go on sale starting at 11 a.m. on Saturday, February 13 during an Open House at LewisGale Field. Tickets will also become available online through www.salemsox.com after the event.
For questions regarding group outings for a specialty night or any Salem Red Sox ticket plan, call 540-389-3333 or email [email protected]