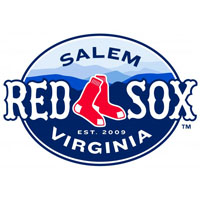 Despite allowing four runs and committing five errors in the first inning, the Salem Red Sox turned around and scored 13 unanswered runs to take the final game of the four game series from the Potomac Nationals 13-4. The Red Sox committed seven errors on the day but scored three in the first, four in the second, three in the third, and three in the seventh to overcome the deficit.
This was not the most well played game in the history of LewisGale Field. The teams combined for six wild pitches, six hit by pitches, nine errors, ten walks, and left 20 runners on base.
Justin Haley was outstanding in relief for the Red Sox. Haley picked up the win in five and a third shutout innings, allowing just two hits and striking out six. Luis Diaz started for the Sox, lasting three and two thirds, surrendering four runs. Only one run was earned. Ian Dickson got the loss for the Nationals. The righty allowed seven runs in one and a third innings.
The errors started for the Sox in the first after a bunt single by Randolph Oduber. Catcher Jayson Hernandez tried to pick off the runner at first but threw it into right field. The Diaz made a bad throw on a ground back to the mound to put two on. Oscar Tejeda singled in a run and got to second when Matty Johnson bobbled the ball in center. Tejeda then stole third and the throw by Hernandez sailed into left, allowing Tejeda to score. Later Estarlin Martinez reached on an error by Grangnai to make five errors in the inning.
Down 4-0, the Sox struck for three in the first. Kevin Heller doubled home Jonathan Rood and Reed Gragnani and the Aneury Tavarez tripled home Heller to make it 4-3. In the second, The Sox struck for four. Kevin Mager singled, and eventually scored on a wild pitch to tie the game at four. Then after walks to Johnson and Bo Greenwell, Reed Grangnani singled and brought home Johnson. The a single by Tim Roberson scored Greenwell. Gragnani scored with the bases loaded when Tavarez was hit by a pitch, to make it 7-4.
In the third, the Sox added three more. Back to back doubled by Gragnani and Roberson brought home three runs, and after three innings the Sox led 10-4.
The Sox also got three in the seventh inning, without getting a hit. Reliever Wander Suero hit three consecutive batters, loading the bases with no outs. Then a wild pitch, sacrifice fly by Roof, and groundout by Gragnani made in 13-4.
With the win, Salem remains 5.5 games behind Myrtle Beach in the South division. The Sox open a three game set with the Pelicans tomorrow in Myrtle Beach. Cory Littrell goes for the Sox. Victor Payano gets the start for the Pelicans. First pitch is at 7:05.