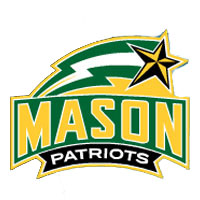 Patrick Holloway cut it to a one possession game with six seconds left to play, but Saint Joseph's held on with a final free throw as Corey Edwards' final three-point attempt hit the iron ending a 58-54 SJU victory over George Mason in Hagan Arena Saturday. Holloway and Shevon Thompson each reached double-figures on the night.
After trailing by as many as 10 points in the second half, Mason slowly chipped away at its deficit as Trey Porter cut it to two points, 50-48, with 3:20 left to play. With opportunities to tie or take the lead, the Patriots committed three turnovers in the next two and a half minutes while SJU pushed its lead back out to six points. Holloway kept Mason alive down the stretch, hitting a pair of triples as the junior finished with a game-high 16 points behind three triples. Thompson posted a double-double behind 15 points and a game-high 16 rebounds to lead Mason to a 36-28 rebound advantage for the game.
Although struggling at the free throw line, SJU made 31 (16-31) trips to the charity stripe to Mason's 13 (7-13) and forced 19 Mason turnovers in the contest. The Hawks converted the miscues into 19 points as the home squad held the score advantage the entire game. The A-10's leading scorer, DeAnre' Bembry, led the Hawks with a double-double of 14 points and 11 rebounds in addition to three steals. Aaron Brown chipped in 11 points for SJU.
SJU led by as many as nine in the first half to carry a 31-24 lead into the halftime break. Mason committed 10 of its turnovers in the first 20 minutes as Mason went 2-for-2 at the free throw line in the opening stanza. SJU was 5-for-8 in the first half and shot 48.0 percent from the field to Mason's 38.5 percent.
Mason concludes this two-game road swing with a visit to A-10 newcomer Davidson on Wednesday. Tip is slated for 7 p.m.