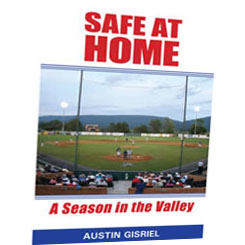 The New Market Rebels of the Valley Baseball League are pleased to announce that Safe at Home: A Season in the Valley, a non-fiction work about the 2009 Rebels's squad, is now available as an e-book.
"I'm excited about offering Safe at Home in this format," says author Austin Gisriel. "Publishing is changing rapidly and it is important for authors to change with it in order to offer their readers the best experience possible."
Safe at Home is available for the Kindle, Apple, Barnes & Noble, Sony, and Kobo readers among others and the book may be ordered through the Kindle Store or Smashwords.com. Amazon offers a free Kindle application for your PC, Mac, iPhone, Blackberry, iPad, Android, or Windows 7 phone. The e-book retails for $2.99.
Each chapter contains a link to the Safe at Home on-line photo album where Melissa Dodge's outstanding photographs that appeared in the printed version may be viewed in full color.
The book was printed in paperback form by Augusta Free Press Publishing LLC, the parent company of AugustaFreePress.com.
Gisriel's next e-publishing project also involves the Valley League. A 30 year retrospective tentatively entitled "The Glorious Summer," the lengthy article focuses on the 1981 season in which New Market and the Winchester Royals battled for the Valley League crown. The Rebels boasted three future major leaguers that year in Tom Browning, John Kruk, and Dan Pasqua, but it was Winchester that had the season of a lifetime. Plans currently call for this e-article to be offered at no charge.