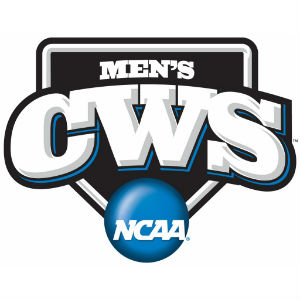 Brian O'Connor went to bed Saturday night after his UVA baseball team had dropped Game 1 of its Super Regional series to Maryland knowing that he would use his Game 3 starter, Artie Lewicki, to get whatever late key outs he needed in Game 2.
What that decision meant was that if he was still alive for a Game 3, then he would have to go with Josh Sborz, who had been demoted from his weekend starting spot to the bullpen a month ago.
What O'Connor couldn't have known Saturday night was that going with his fourth option on Monday would give him the advantage.
"I had complete confidence in Josh Sborz going out there today. That guy has really electric stuff. After he settled down after the first inning he was absolutely in control for seven innings," O'Connor said after his roll of the dice came up craps, with Sborz giving him seven scoreless innings in what turned into an 11-2 Virginia win that sends his team back to the College World Series for the third time in six seasons.
Maryland coach John Szefc also rolled the dice heading into Game 3, starting Bobby Ruse (7-2, 2.72 ERA, 30 appearances, three starts in 2014) over Jake Drossner (4-1, 2.45 ERA in 13 appearances, 12 of them starts). Drossner would not see the mound in Game 3, and Ruse would not be long for it, giving up three runs in the first, on an RBI single to Derek Fisher and a two-run triple to Kenny Towns, before being chased in the third in the midst of another three-run inning.
Ruse was charged with six runs, all earned, in two and a third innings, and Maryland was basically done by the time he had put on his warmup jacket for the final time.
"I don't regret it," Szefc said of the decision to go with Ruse. "Bobby has been a strike-thrower for us all year and has been very effective. You've got to realize what we ran into tonight. [Virginia] is by far the most talented team we've played all year. Not even close. Sborz could be a number one starter for a lot of teams. We ran into what very well could be the national champion at home in their park. I haven't seen a team like this in 13 years."
Which is maybe easy to say in retrospect, but little about the move to go with Ruse, who hadn't started since April 9, seemed to make sense. The soft-tossing righty, whose fastball topped out at 87 mph, was hit early and hard by an aggressive UVA offense, which didn't have trouble with the Maryland pitching staff all weekend, putting up 22 runs on 39 hits in the three games.
For O'Connor, as good as Sborz was, the offense was just as good, putting up the two early threespots, then answering Maryland's one challenge of the night, a two-run eighth that forced O'Connor to go to closer Nick Howard to get the final out of that inning, with a five-run eruption that turned the ninth into a processional.
"Certainly our offensive output was outstanding," O'Connor said. "Much was made of our offensive ball club before this season started. There were some games where it didn't go so well and it wasn't easy, and we won a lot of close ballgames. Certainly the last two weeks, this offensive team showed what it was capable of doing."
Offense had been the weak link all season long, with the Cavs scoring just 5.4 runs per game in the regular season in 2014, down from the 7.9 runs per game that Virginia put up in 2013. But in the regional round last weekend and then the Super Regionals with Maryland, UVA scored a combined 44 runs in six games, 7.3 runs per game, including nine in the regional-clinching win over Arkansas and then the 11 in the Super Regional clincher.
"I think this is a team that is built to win in Omaha, and I think they understand what it takes to be very successful there," O'Connor said. "They will be focused. They'll enjoy this victory tonight certainly, but tomorrow we'll turn our attention to our next opponent. I think in all phases of the game, this team is pretty special. I'm excited to see them go out to Omaha and compete for a national championship."
– Column by Chris Graham