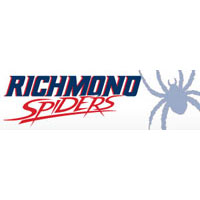 A stifling defensive effort and a second straight 20-plus point performance from junior T.J. Cline led the University of Richmond men's basketball team to a dominant 69-53 victory over UMass (9-13, 2-8) on Saturday evening at the Robins Center.
The Spiders (12-10, 4-6 A-10) limited the Minutemen to just 30.4 percent from the field and seven first-half field goals. It marked the lowest field goal percentage and the second-lowest point total by any Spider opponent this year.
Cline finished with a game-high 24 points on 8-of-12 shooting to go along with six rebounds. The Plano, Texas native has now connected on 21 of his last 30 field goal attempts.
"I'm really proud of our team," head coach Chris Mooney said. "We had one of the best practices in my career here on Thursday. Our guys came out and were competitive and aggressive. I thought that played a major role in tonight's win. Our defensive intensity was fantastic and I thought that we played with our lot of pride in everything we were doingtonight."
Classmate ShawnDre' Jones added 12 points and a career-high nine assists, while fellow junior Marshall Wood came off the bench to chip in 10 points and three rebounds. Jones committed just two turnovers as he ranks in the top five in the conference in assist-turnover ratio.
Senior Terry Allen finished with nine points and a career-high tying 16 rebounds. It was the first time in 32 games that he failed to reach double-figures in scoring.
Fellow senior Trey Davis scored five points and six rebounds, but his biggest impact came on the defensive end where he held UMass' leading scorer Trey Davis (came in averaging 19.6 ppg) to just four points on 0-of-11 shooting.
The Spiders outrebounded UMass 42-36, including 11 on the offensive glass. Richmond also won the battle in the paint, 28-10.
The Minutemen didn't make it easy early on, knocking down five three-pointers in the first seven minutes to take a 15-7 lead. That's when the Spider defense locked down, holding UMass to just six points in the final 13 minutes of the stanza.
Over that stretch, Richmond put together a 20-6 run, thanks in large part to 13 points from Cline, to take a 27-21 advantage into the break.
The Spiders kept the foot on the gas coming out of the halftime break, outscoring UMass, 11-4 to push their lead into double-digits, where it would stay for the majority of the remainder of the contest.
Jones led the way in the second half, scoring 10 of his 12 points in the second half to help Richmond close out the 69-53 victory.
The Spiders are back in action on Wednesday night at Saint Louis. Game time on MASN2 is set for 8 p.m. CST.